Easter is almost upon us! Which means, it's time once again to over indulge in the finest sweet treats this particular time of year has to offer.
And we all know the true heroes of the Easter time treats are: hot cross buns.
A humble but delicious baked good that, when created by some of Sydney's best artisan bakers, are truly a thing of beauty! (you can probably tell we really love hot cross buns…)
Thinking only of you, we went through the truly awful task of sampling and reviewing some of the best buns Sydney has to offer this Easter because we know you've been wondering and also because Chandel definitely has a problem with cake…
So, here are (in our opinion) the best hot cross buns you can find in Sydney for your 2019 Easter festivities, and where to get them. You are SO welcome…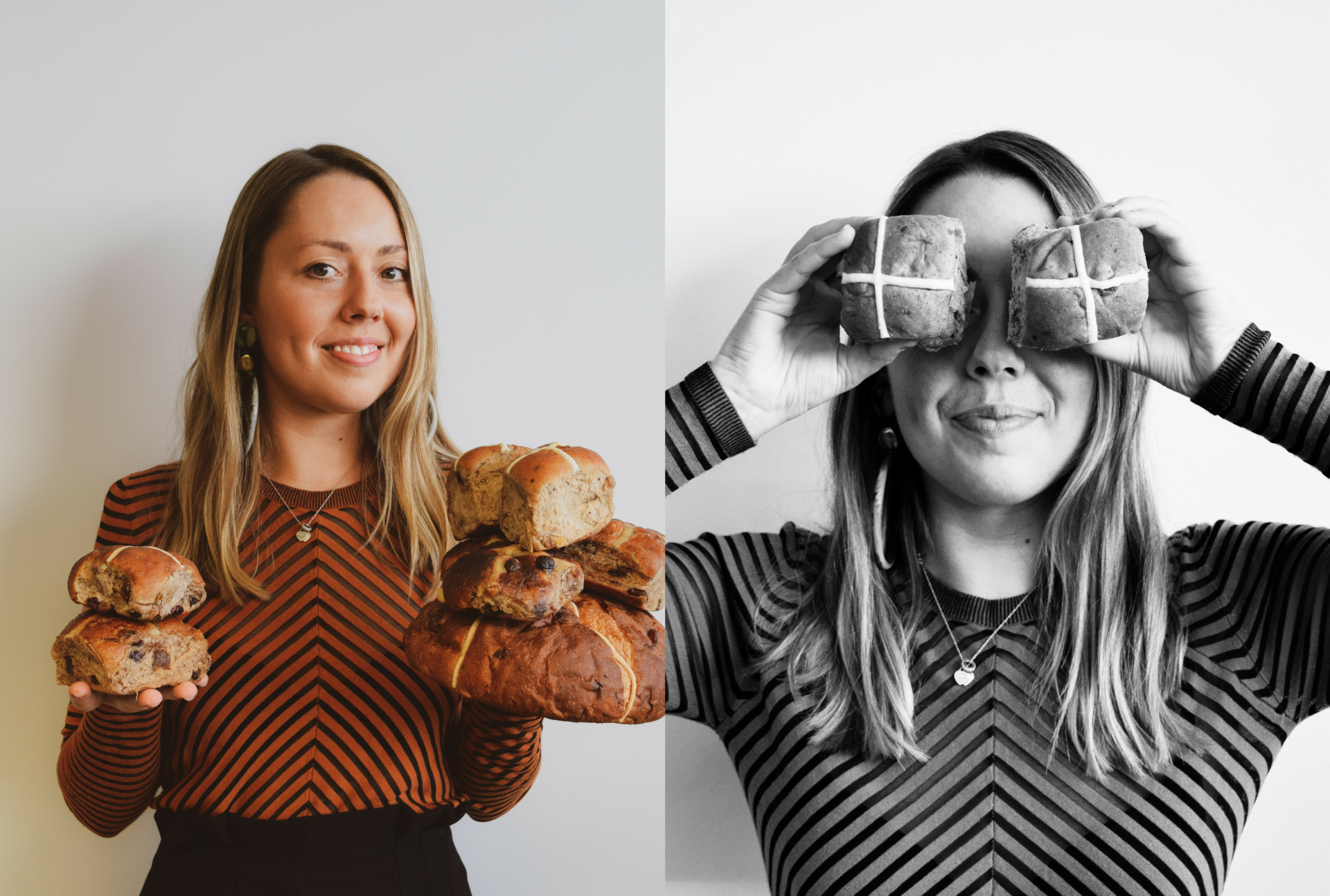 Bourke Street Bakery 
With 11 different locations around Sydney, Bourke Street Bakery truly is a 'neighbourhood bakery' and they pride themselves on doing things the old-fashioned way: using the best ingredients, their hands and lots of love. Their Surry Hills location is also dangerously close to Pure Finance HQ…
https://bourkestreetbakery.com.au/
THE VERDICT
The softest and fluffiest by far, Bourke Street's buns are the most traditional of the bunch and are a nostalgic homage to the quintessential hot cross bun.
Chandel: "Ok, so visually these are the best. They look like old school hot cross buns, super nostalgic! Remember, you eat with your eyes, as they say…"
Brendan: "These are really soft, they're probably the best ones if you're eating them straight up (not toasted). Although, they don't have as much fruit as the others..."
Brickfields 
Nestled at the end of a Chippendale cul-de-sac, Brickfields bakery/café supplies Sydney locals with european style breads and pastries, and, at Easter time, their famed hot cross buns. There is many a Sydney sider that would say Brickfields buns are the best, and so we were very excited to get tasting.
https://www.brickfields.com.au/
THE VERDICT
Brickfields are changing things up with the non-traditional addition of cranberries to their hot cross buns, so if you're a fruit fan, these are the buns for you!
Chandel: "These are absolutely packed with fruit! The cranberries are really delicious in them, such a great idea!"
Brendan: "Yeah, the fruit is really great in these, love the cranberries!"
Chandel: "Although, these seemed like the driest of the lot, so I would recommend toasting them."
Organic Bread Bar
With locations in Paddington and now Darlinghurst, the Organic Bread Bar has a legion of devoted fans, who pile themselves into the tiny Paddington bakery every weekend. If you go, go early and expect to line up (but, totally worth it!)
http://www.organicbreadbar.com.au/
THE VERDICT
What these buns lacked in traditional beauty, they most certainly made up for in deliciousness, with lots of fruit and a lovely dense, chewy texture.
Chandel: "These are great! I mean, they aren't the prettiest, but are really sticky and juicy. They are also the sweetest, which is NOT a problem for me…"
Brendan: "There's lots of fruit, they haven't skimped on that. The texture is really nice too, a bit chewier than the others, I really like it."
Chandel: "Plus, they're organic! So, they're healthy… IM KIDDING!"
Black Star Pastry 
Made famous by 'that' watermelon cake, Black Star Pastry has certainly made a name for itself on the Sydney bakery scene. Even after almost 9 years of trading, plus the addition of new locations in Rosebery and the CBD, the lines still run out the front door of their original Newtown location most weekends.
https://blackstarpastry.com.au/
THE VERDICT
Along with the traditional fruit and spice combo, Black Star's buns feature a fancy 'frankincense infused' glaze, which is certainly 'on brand' for Easter time and gives the buns a very appetising shine. However, we were not overly sold on the taste…
Chandel: "If I'm honest, I'm not a huge fan of the glaze, it tastes a bit like perfume…but, I can totally see the appeal. I imagine some people would really go for this..."
Brendan: "Yeah, it's a strange flavour. Not awful, but definitely perfumey…" 
Chandel: "But the bun itself is still really good. I think if people are into more exotic flavours, and want to go for something a bit different, they'll really appreciate these."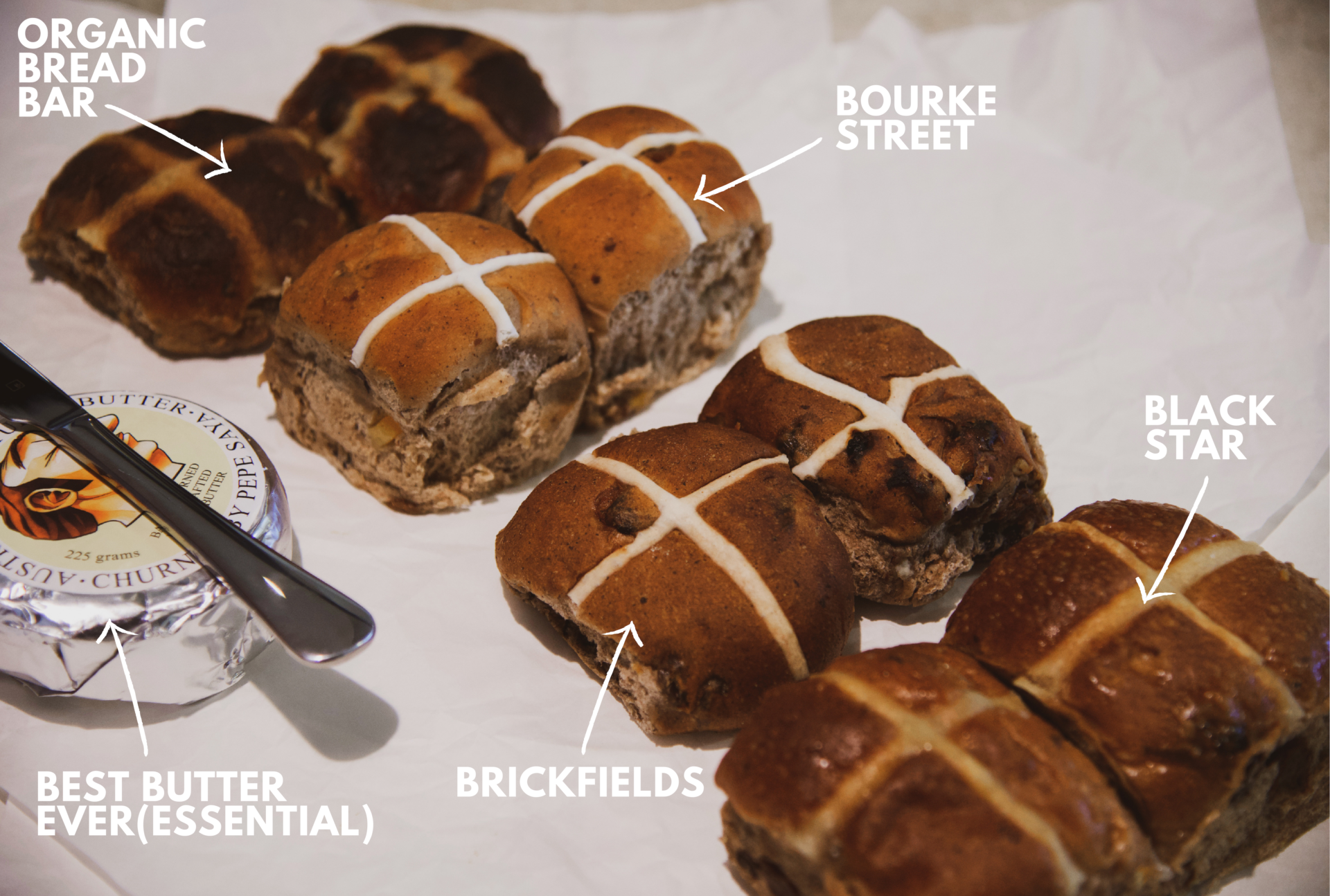 Traditional hot cross buns not really your thing? Check out some of the more weird and wonderful treats on offer around Sydney this Easter…
Hot Cross Donuts – Grumpy Donuts 
If there is one way to improve on a hot cross bun, it is to make it a donut!
This year, our friends at Grumpy Donuts are doing just that with their limited edition 'Hot Cross Donuts', which will feature a rum infused crème patissiere filling and spiced glaze. The best part is, these guys deliver! 
Easter High Tea - Intercontinental Sydney 
Why have one Easter themed treat, when you can have many! This year, the Intercontinental Sydney are putting on a very indulgent 'Easter High Tea' for the month of April. The menu features a myriad of whimsical Easter themed goodies, including creamy chocolate & pistachio choux rabbits and of course, traditional hot cross buns with lashings of butter.
https://www.icsydney.com.au/Dining/DiningExperiences/Easter-Dining-Cortile
Hot Cross Loaf – Bourke St Bakery
Along with their traditional hot cross bun offering, Bourke Street Bakery are also doing a whole hot cross loaf that you can slice up like a delicious loaf of bread, and conveniently pop in the toaster. A great idea if you're looking to feed a few, or you want to be everybody's best Easter friend in the office. For research purposes only, we also purchased one of these for ourselves…
https://www.instagram.com/p/BvsFdzOp0xx/
Holy Hot Cross Buns - Gelato Messina 
In terms of epic ice cream creations, the Gelato Messina crew never disappoint, and this Easter is no different. Labelled 'The Holy Trinity', these guys are releasing a limited run of a trio of gelato eggs and boy do they look incredible! Among the flavours is 'Holy Hot Cross Buns': a milk chocolate egg, filled with a hot cross bun flavoured gelato, featuring chunks of spiced buns and finished off with a gooey dulce de leche centre.
Get. Onto. It. 
https://gelatomessina.com/cakes/easter-eggs
Easter at The Grounds
This year, The Grounds are going all out for Easter, with a HUGE line up of Easter themed events and activities for the whole family. They will once again be cracking their famous 500kg chocolate egg, as well as putting on a night time 'Rainbow Dessert Lane', which will feature a very instagramable rainbow light installation and some tasty dessert carts.
In true 'Grounds' style, rest assured that said activities will be as pleasing to the eyes as they are to the stomach…
https://thegrounds.com.au/easter/#dessert
Enjoyed this post? Why not share it with your friends! 🙂
Share this