With Australian house prices rising at their fastest rate in more than 17 years, the prospect of buying a property in such a hot market can feel very overwhelming, especially for first home buyers. So, if you feel like you're never going to find a place, that you're being priced out of where you want to buy, or that you keep getting beaten to the dotted line, you're not alone.
In this so-called 'sellers market', what are some things buyers can do to give themselves the best possible chance of purchasing success? To answer exactly that, we sat down (distanced, of course!) with principal buyer's agent and long-time friend of Pure Finance, Kellie Landrey from Scoutable, to bring you 10 tips for buying a property in a hot market and hopefully help tip the 'sales' in your favour.
1. Do not pass GO without finance pre-approval first
Having a loan pre-approval is an absolute must in a hot market (well, in any market really). There are lots of benefits to being pre-approved but importantly, it means that a lot of the finance 'work' has already been done, allowing you to move fast when you need to. It also means you know exactly how much you can afford to spend, and crucially, you are actually able to borrow the amount you need from the bank. The pre-approval process is also when any potential hurdles tend to arise, so if you're looking for peace of mind, you're most likely to find it here.
"Signing a contract without pre-approval is a very dangerous game. Not only does having it make things go a little quicker once you find the property you want to purchase, but some agents are not allowing inspections of properties without pre-approval at the moment due to COVID."
More on why, and how, to get pre-approval here ↗︎
2. Look at 'recently sold' properties (instead of just 'for sale' ones)
By now, most of us use apps like realestate.com, Domain or Urban to search for properties. But rather than setting your filters to 'Buy' and simply looking at what's available right now, it's also really important to get to know what the market is doing by looking at what's 'Sold' in the areas you're looking at. Armed with an understanding of the local market, you can make an offer more confidently, knowing that you have evidence on your side.
"By comparing what you're looking for to what has sold recently, you might find that there is more opportunity in another area. Sometimes it can open up a whole new range of properties in neighbouring suburbs that you might not have looked at before, and it can help set expectations for what you might have to pay to secure something."
Because the market is changing so much, we recommend only looking at sales that are between 1-3 months old, but it can give you a great insight into how much similar properties in the area are going for. Which also brings us to… ↓
3. Be realistic about prices
If you remember that Microeconomics 101 class you took at uni, the basics of supply and demand also apply to the property market. Right now, demand is up (lots of potential buyers), but supply is down (not as many properties for sale, coupled with national lockdowns) and so prices are on an upward trajectory. 😬
In a sellers market - you're very unlikely to get a bargain. If you go in with unrealistic expectations about what you can get for your money, you'll either buy a sub-par property or just constantly miss out. Ideally you'd like neither of these outcomes so make sure you are realistic about what it's likely to cost you to get the place you want and be prepared to pay a little over, if you can, without stretching yourself too far.
"You are going to miss more properties if you're going to be conservative with your prices. Now is not the time for low balling - the key is to get in quick and make strong, sensible offers. Don't be afraid to put in a strong offer, quickly."
4. Foster relationships with local estate agents and set up alerts
Fostering strong relationships with local real estate agents is also a really great tool for navigating a hot market with lower property supply.
"Don't be afraid to contact agents and ask them what they've got coming up for sale on or off market. Find out who the key agents are in your area, contact them and foster relationships with them."
And if you haven't already, make sure you get on agent databases or newsletter lists and set up real estate app alerts to give yourself the best chance at catching properties as soon as they come onto the market, as well as the ones that are being sold off market.
5. Put in a pre-auction offer once you know the vendor's intentions
Properties in Australia are usually sold via auction or private treaty, however lots of property buyers will try and secure a property with a pre-auction offer. And, you guessed it, there's a knack to this too. What is Kellie's best advice for making a pre-auction offer in a hot market? Make it unconditional and time limited.
"Some agents are happy to receive offers straight away, some will want to wait a few weeks. Talk to the agent and find out about the vendor - why they're selling and what motivates them. When you make an offer, waive your rights to a cooling off period and make it timed. Make the offer at 3-4pm, and make it expire early the next day, telling the agent that you 'need an answer so you can pursue other properties. Be confident, be strong - go hard."
That last bit is just good life advice if you ask us! If the vendor is set on going to auction, Kellie's best advice is not to make offers beforehand (don't show your hand), to set your price limit, and be confident.
For more on the process for buying a property under the different methods of the sale, visit Scoutable here ↗︎
6. Have your solicitor / conveyancer and your deposit ready to go
When a market is hot like the one we're in now, and you've found a property you'd like to make an offer on yourself, you want the least amount of other eyeballs on that property as possible. Which basically means, and you need to make it as easy as possible for the vendor to say yes to your offer - i.e. all they have to do is sign the contract and it's done.
This means you need to have your deposit ready to go, and your solicitor or conveyancer waiting in the wings so they can look over the contract before you commit to the purchase. This is a really important part of the process, so make sure your solicitor or conveyancer is someone you feel really comfortable with.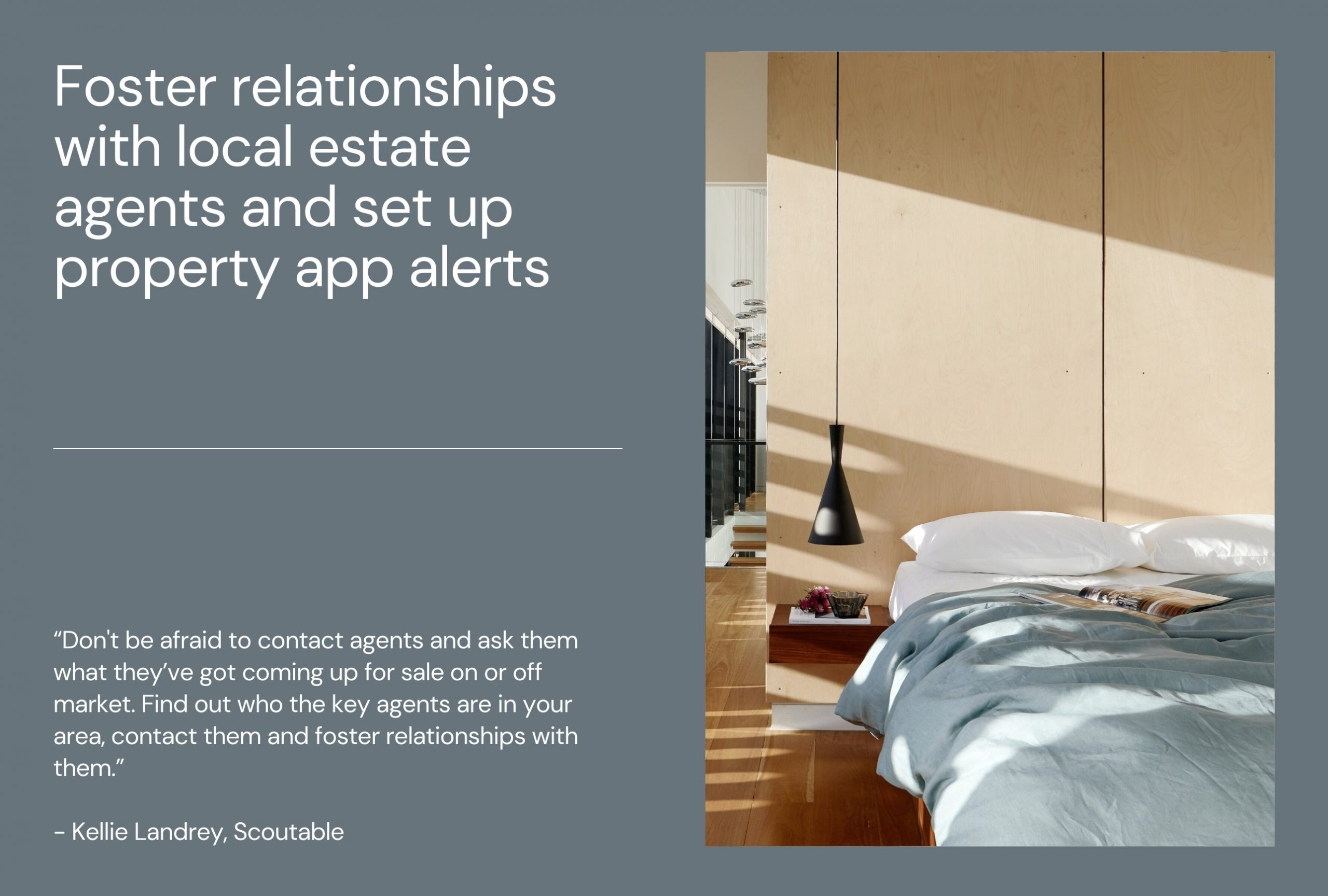 7. Offer a vendor-friendly settlement period
Offering a shorter settlement period can make you a stronger buyer candidate, if you're certain that you can pull it off (ask your broker and your solicitor first!). Some vendors love to know that the property can be off their hands in 4 weeks, rather than the usual 6 weeks (or longer, in some instances).
However, some vendors are looking for long settlement periods to give them plenty of time to find a new property themselves. So, now that you've fostered a stronger relationship with your local agent, ask about what non-price factors are motivating the vendor and you will give yourself the best chance of property success even in a hot market.
8. Be prepared to walk away
Craig David was right, sometimes you've just gotta walk away. We know that this can be incredibly difficult if you have your heart set on a property or you just keep missing out, auction after auction. But, unfortunately, sometimes that's just the way it goes, especially in property. Kellie's best advice?
"At auction, stick to your limit - whatever happens on the day, happens. Especially if you're new to the game, stick to your budget and be prepared to walk away. Remember, you will always fall in love again."
9. Book your pre-settlement inspection for the morning of settlement day
A pre-settlement inspection (sometimes referred to as a final inspection) allows you to check that the vendor has complied with their obligations under the contract before the property is signed over to you. In other words, you can check that the garden hasn't been ransacked, that carpets or curtains haven't been removed, or that, if the seller has agreed to fix any defects to the property, that they have been done.
"Legally, you can access the property once, so reserve your inspection for the morning of settlement - in case something goes wrong. Call your solicitor or conveyancer to book your pre-settlement inspection on the morning of settlement itself."
If things haven't quite gone according to plan you may be entitled to delay settlement or negotiate for some funds to be withheld at settlement (there might be extra legal costs involved, however). Something to bear in mind!
10. If you're really struggling: get help!
We don't try to give ourselves a root canal or install new electrical wiring without the help of experienced professionals (we hope) - so why would we try to make one of the biggest investments of our lives without help? Of course, from mortgage advisers to conveyancers and even accountants, there are plenty of trusted professionals that you can have by your side during the property buying journey.
However, the one that might be particularly helpful with such a steamy market, is a buyer's agent. There are buyer's agent services that suit everyone's budget from getting one-off support at auction, all the way through to finding the property, providing a detailed analysis and negotiating for it on your behalf. (the whole shebang, really)
"You can save tens or even hundreds of thousands of dollars by avoiding the common pitfalls of bidding too high or too quickly. We've even worked with clients who were able to access an LMI waiver to pay for Buyer's Agent fee in specific circumstances, or investors who can claim their services as a tax deduction."
A good buyer's agent can help ensure you stay within the limits of your budget and, through expertly honed negotiation skills, help you get the best price for your property. So you may end up saving more than the few thousand dollars it costs in the long run, not to mention all that stress.
While of course, you don't need to use a buyer's agent to be successful, and the choice to use one is absolutely a personal one, if you are finding the purchasing process particularly gruelling, it might be an option worth exploring to help take some of the pressure off.
---
We hope those tips have sparked a renewed sense of confidence, and that they help you get into the property market sooner rather than later, if that's a financial goal for you. If you use any of them, we would really love to hear how you go!
→ info@nullpurefinance.com.au

The finance information contained in this post is general advice only, and doesn't take into account your personal circumstances or goals. You should always reach out, or seek professional advice, before making any financial decisions.
Share this