There's a lot to think about when buying a home. Do you want to live close to the city or head out of town? Are you looking for a low-maintenance apartment or a bit more space and even a backyard? How many rooms, bathrooms, and car spaces do you need? What about the design and interiors of the property itself?
With such a specific list of boxes to tick, it might make sense to build the property of your dreams instead. There's a bunch of reasons why building a home can be an attractive option: the control and flexibility to design your home from the ground-up plus the appeal of stepping into a brand-new home (without the need for immediate maintenance and repairs).
But there's also the less glamorous side to building your own home, including understanding the costs of construction, finding a reputable builder, and navigating the complexities of building contracts. To help you wade through this sea of information, we've put together a guide to everything you need to weigh up when building a home.
So, how does it work?
As you'd expect, building a home from the ground up, or making structural changes to an existing dwelling is a pretty significant undertaking. With this in mind, lenders typically like to make sure that you have all of your ducks in a row before setting out on your construction project (or major renos) by way of a fixed-price building contract from a licenced builder. Chances are you'll also require council approval for your plans, so make sure you get that sorted early too.
With construction loans, just like traditional home loans, the bank relies on loan to value ratios (LVR's) when determining how much they will lend for the build. And, just like traditional home loans, lender's will generally allow you to borrow up to 95% of the completed value of the property. For example, if you were to purchase a block of land that costs $400k and have a fixed price building contract for $300k, the bank would lend against the estimated completed value of $700k.
The main difference between a traditional home loan and a construction loan is that the former is a little bit more 'hands off', while the latter typically allows for interest only repayments and the gradual disbursement of the loan to minimise outgoing costs and increase cash flow during the construction period. Once the construction is complete (which usually has to be within 12-24 months) the loan product will revert to a traditional home loan for the remainder of its duration.
Speaking of repayments, it's important to factor in the costs of living elsewhere (e.g. rent) during the build, while also budgeting for the interest only repayments on your construction loan.
During construction, the bank will typically release funds directly to your builder in 5 stages. These main payment stages include:
Slab or base stage: covers the cost of laying the foundations of your home, along with plumbing and waterproofing.
Frame stage: covers the cost of the house frame, roof, and windows.
Lockup stage: covers the cost of any brickwork and external doors.
Fixing or fit-out stage: covers the cost of internal walls, woods, fittings and fixtures (such as cupboards), electrical work (such as lights and powerpoints) plus internal plumbing (such as toilet and bathroom fittings).
Completion stage: covers the costs of finalising the build, including walls and ceilings, painting, fitting electrical appliances plus the final and clean prior to move-in.
Should you consider the owner-builder approach?
So, you've watched a few seasons of The Block and you're ready to strap on the overalls and start laying some bricks. Before you commit to the DIY approach it's important to think about the impact this will have on your build.
While being an owner-builder can slash your costs by up to a third (as you won't need to pay the Registered Builder's Fee), most lenders are reluctant to finance owner-builder projects and prefer home builders to engage a licensed builder to get the job done. Plus, there are other important factors to consider including:
You'll need to oversee and manage the entire project yourself and coordinate various tradespeople on the building site
You'll need to undertake an approved course or have an existing construction accreditation before applying for an Owner-Builder Permit
You'll be responsible for making sure all sub-contractors are all licensed, insured, and working in a safe manner on the site
Sure, it might seem smart to reduce costs by managing the build yourself. However, if you're navigating a demanding job and a busy schedule, adding another project to your plate might become an overwhelming responsibility.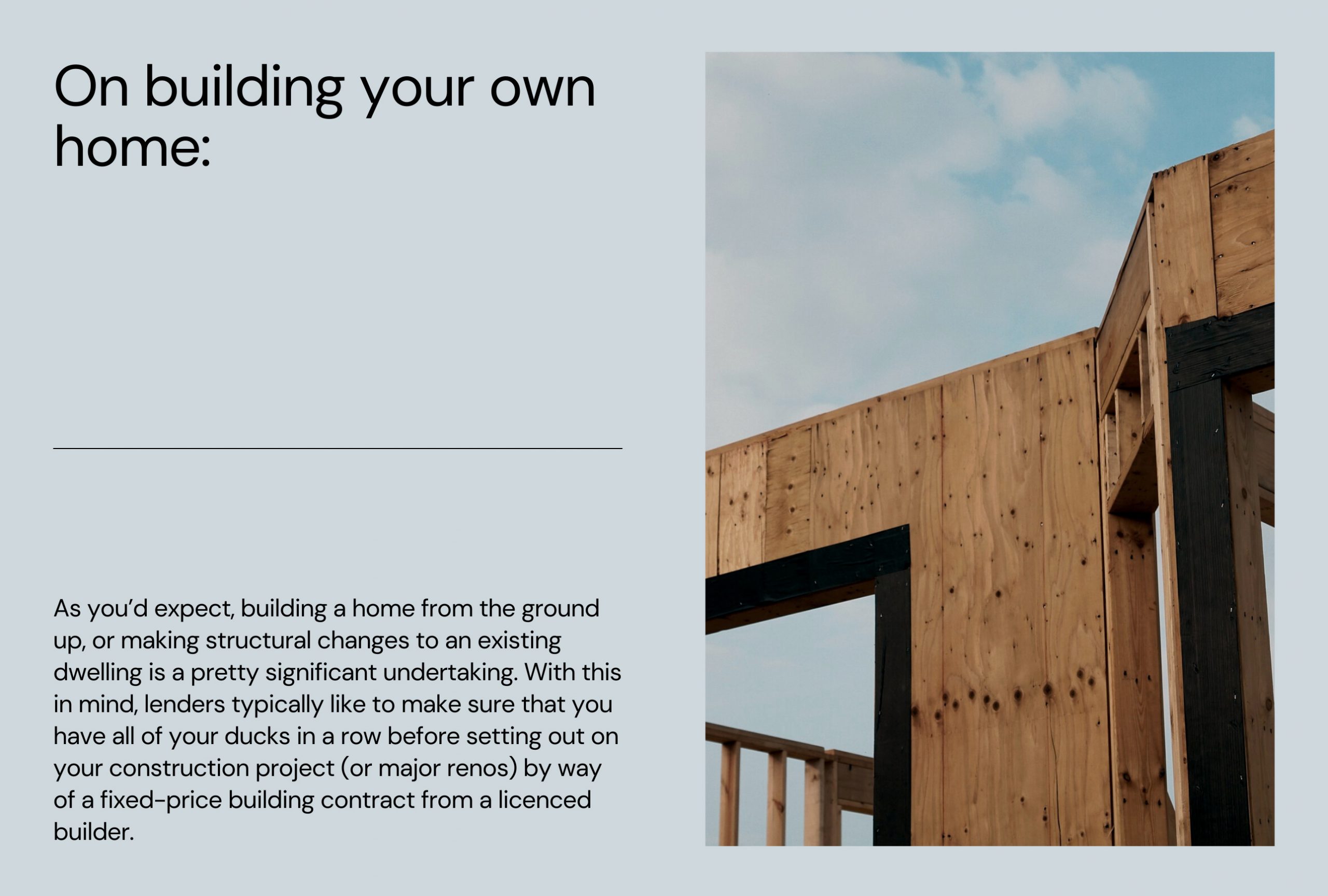 Navigating building contracts
Signing a building contract is standard practice for every new home build. These contracts include a range of steps (known as "remedies") in the event that problems crop up during, or after the build. To protect yourself now and in the years to come, it's important to understand what is and isn't covered by the contract.
This is where looking at the contract's inclusions and exclusions come in to play. Be sure to read your contract thoroughly and check that the plans, specifications, and important documents are all listed out in the contract. In most cases, building contracts will also have an exclusion clause (that will state that only matters covered in the contract will be relied on), so be sure to check everything you've agreed on is included.
Don't forget to check out NSW Fair Trading's comprehensive checklist to make sure your building contract contains all the essential elements.
Weighing up your build options
You've probably seen ads splashed across billboards for house-and-land packages at competitive rates. But that's not the only way to build a new home.
Here are some of the key build options to consider:
House and land package
A 'turn-key' option that allows you to secure both a block of land and the construction of a new home in one process (but with two separate contracts). This usually involves going through a developer who will package up the land, a builder, and home design into one deal.
Pros: the ease and convenience of knowing exactly what you're buying and having all the extras (such as landscaped gardens, driveways, etc.) included.
Cons: it can be difficult (and expensive) to make modifications to the design and customising the design to suit your taste can be a complicated process.
Buying land now and building later
This option is available through both new estates (who might be selling vacant lots) as well as in-fill sites in more established suburbs. This option can help you save on stamp duty (as you'll only be paying it on the vacant land lot), which is typically less expensive than a complete house and land package.
Pros: Greater flexibility and a longer time-frame prior to construction that can help you increase your savings ahead of the build.
Cons: If you're renting at the same time, this can be a costly option as you'll be paying rent and repayments on the land loan simultaneously. If you're purchasing land from an estate, there may be design restrictions as well as a limited choice of builders to ensure the estate maintains a cohesive look and feel.
Tiny homes
Any home with a floor area of 37sq m or less is considered a tiny home, and can either be built on wheels or on 'skids' (a platform or foundation that doesn't move). Some companies do offer these tiny homes pre-built but others offer the DIY construction approach.
Pros: The majority of tiny homes in Australia are built on wheels or trailers, meaning they're classified as caravans (and can therefore be parked on a property with an existing dwelling without any DA approval).
Cons: If you want to use a tiny home as the primary dwelling on a vacant block, you'll need to get DA approval to make sure it's safe and habitable.
---
While building a home can give you the chance to realise the vision for your dream home, it does come with a unique set of costs and challenges. By doing your research and considering all your build options, you'll be in the best position to make this process as seamless and stress-free as possible.
The finance information contained in this post is general advice only, and doesn't take into account your personal circumstances or goals. You should always reach out, or seek professional advice, before making any financial decisions.
Share this