Well Sydney, it's that delicious time again! We've been hard at work (debatable) road testing some of the city's best hot cross buns, so that we can all level up our 2022 Easter break festivities.
This year, we've upped the ante and have chosen 5 different areas to critique the buns: appearance, aroma, flavour, texture and traditionality. So, without further ado, let's get into the important stuff and, as always - you're welcome.
*Note: all buns were tested with copious amounts of butter because, of course. Controversially, some team members insisted on toasting their buns, while others thought that this would ruin the integrity of the experiment. It did create some tension, but we pushed through for the sake of science.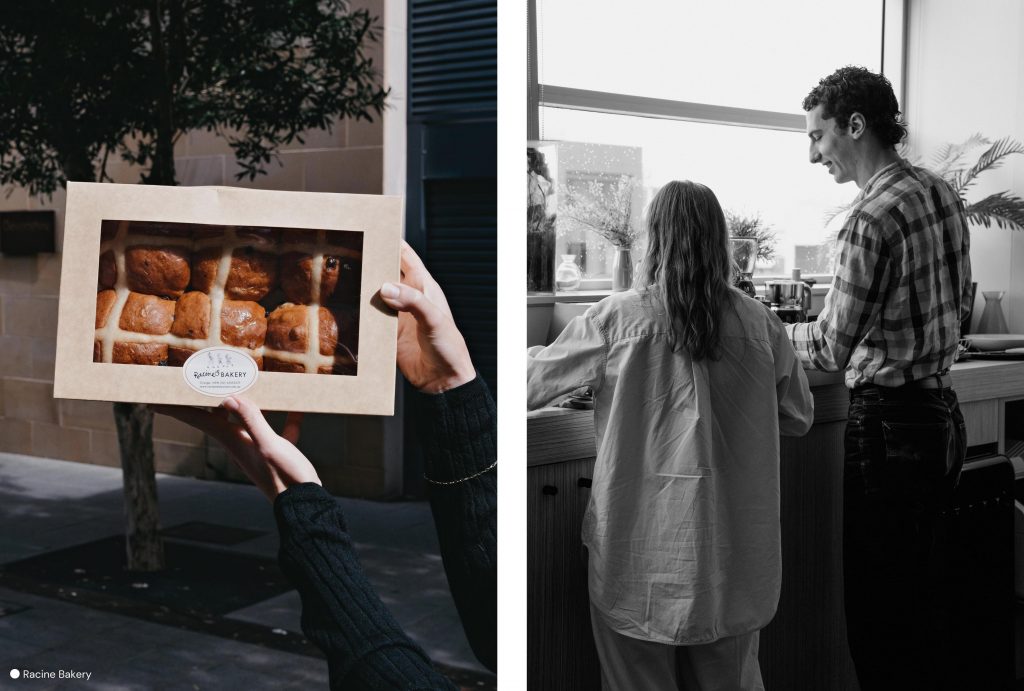 Technically not in Sydney (sorry!) Racine is an Orange institution. With French trained pastry chefs, Racine is famed for all their baked goods (sweet and savoury), as well as their take home meals. This bakery literally has something delicious for everyone. And with our girl Azra insisting they were some of the best buns going around, we couldn't leave them out. Especially when she turned up to work with a fresh batch for us to try…
THE VERDICT:
Appearance
Very traditional appearance, with a lovely round/handmade look about them. They weren't quite as shiny and glazed as some of the other buns, which actually made for very easy toasting in the office toaster without setting off a very touchy fire alarm. For the 'toasted bun' loving team members, this was a BIG plus.
Aroma
These buns had a very traditional, spice-heavy aroma, which really lets you know what you're in for - in a very good way.
Flavour
In terms of flavour, these buns pack a punch (in the best way possible). They were heavy on the spice flavour, with what we guessed to be the addition of ginger, perhaps? This gave the buns a really zingy/spicy element to their flavour, which we all loved. Go big or go home, as they say.
Texture
A textural dark horse, these buns had the most amazing dense, chewy crumb which was unexpected given their very traditional looking exterior. We cannot stress how good the texture of these buns were. Potentially, one of the best in the list.

Traditionality
If it's traditional you're looking for, these buns are definitely ticking the box. Also, Racine have really nailed the fruit to bun ratio, so if this is something that's important to you, you won't be disappointed. We're also v. sorry for including buns that might present a bit of a challenge to acquire for anyone living outside of Orange (especially because they were so delicious!) but hey, think of it as a challenge. Either that, or you can put in an order with Azra.
"Frankly, I'm quite happy with a 6-pack of Woolies' softest and a(n un)healthy slab of butter. That said, in their pursuit of tradition Racine have stumbled upon the sublime." - Seb
WHERE TO GET YOURS:
Can you order online? No
Do they deliver? No. These buns are for lucky Orange locals only. Unless you're visiting the region for your Easter break, in which case definitely get yourself to Racine and grab a bun! (or six).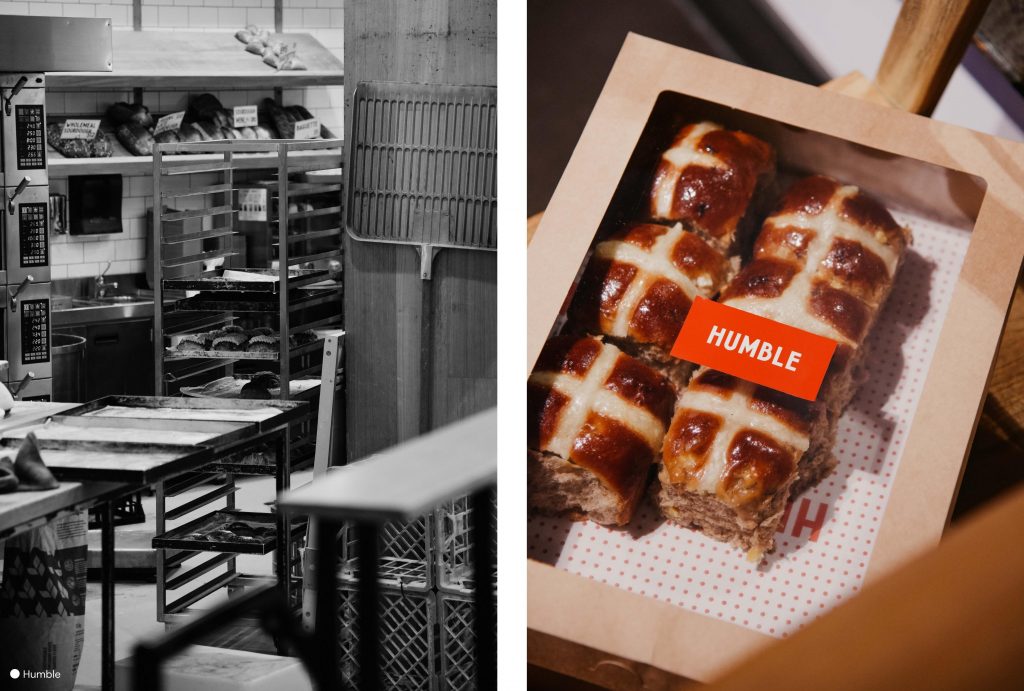 Owned and operated by the formidable team behind Porteno and Wyno X Bodega, Humble is the bakery responsible for 'the finger bun that broke the internet', with all three of these incredible venues residing on the ground floor of Pure Finance HQ (don't be jealous). Like most of their sweet treats, Humble's hot cross buns have been flying out the door ever since they started baking them earlier this month, so we were lucky to get our hands on some.
THE VERDICT:
Appearance
These looked amazing with great height and a beautifully shiny, sticky glaze. They also had that slightly square shape going on, which felt very nostalgic.
Aroma
These were freshly baked when we picked them up (work perk) and so they really did smell amazing. A pretty similar smell to most of the other 'traditional' style buns on this list but, it never gets old you know?
Flavour
Again, a really well-balanced level of spice and sweetness, with an extra hit from that wonderful sticky glaze on top. A very traditional mix of fruit and citrus peel adds to the big nostalgic overtones.
Texture
These were unbelievably light and fluffy, which was quite a contrast to most of the other buns on the list, putting them in a league of their own texture wise. So, so fluffy!

Traditionality
Again, very traditional style buns in appearance and flavour, with that slightly squared off shape making them feel like a really amazing version of a supermarket hot cross bun.
"These are impossibly fluffy and light! While I do also love a chewy/dense bun myself, the fluffy HCB lovers among us will really appreciate these. How did they get them so fluffy?" - Chandel
WHERE TO GET YOURS:
Can you order online? Not officially, but we're pretty sure if you pop in store, the good people at Humble will let you place a sneaky order for Easter.
Do they deliver? No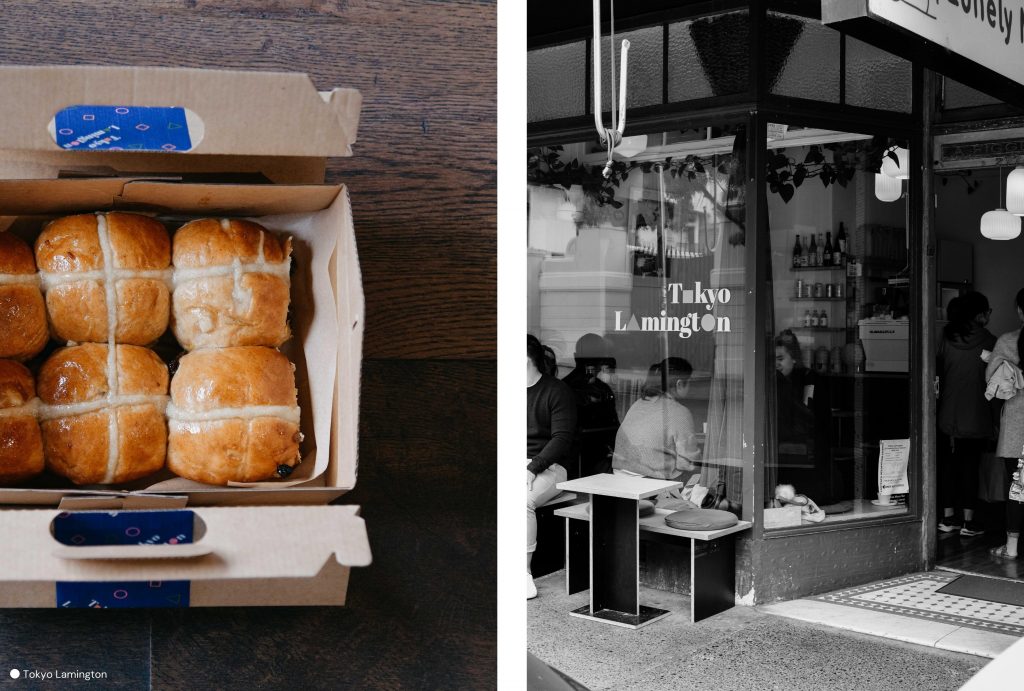 Making its forever home in the old 'Black Star Pastry' digs on Australia St, Tokyo Lamington is a quirky yet very delicious meeting of japanese-inspired flavours and an aussie cake classic. While they are mostly famous for serving a rotating selection of inventive flavoured lamingtons, this year the team have also added a limited run of hot cross buns to their lineup. True to form, these buns also come with a japanese twist: yuzu spiked buns, studded with yuzu peel and finished with a yuzu glaze.
THE VERDICT:
Appearance
Very cute, more rounded style buns. Less of a deep brown than some of the other buns, and they also had a lovely shiny, sticky looking glaze
Aroma
Not an overly strong smell spice wise but we thought that was good because it allowed the faintest hint of yuzu to come through in the background, as a sign of what's to come, i.e. very good things.
Flavour
There are some big yuzu fans in the team, so we were very excited to try these. And they did not disappoint! The yuzu and spice combo is absolutely delicious, and such a great option if you're looking for something a little less 'traditional' this Easter.
Texture
Texture wise, these were pretty much smack bang between a fluffy style bun, and a more dense/chewy one. Best of both worlds.

Traditionality
Definitely less traditional, in the best way possible. The yuzu brings a delicious citrusy/mandarin element to these buns, creating a really unique flavour. If you're a yuzu fan, definitely give these a try!
"I wasn't sure what to expect with these. I absolutely love yuzu, but wasn't sure how it would go paired with the traditional flavours of a HCB. But it totally works, and I thought these were absolutely delicious! An unexpected yet inspired combo for sure." - Chandel
WHERE TO GET YOURS:
Can you order online? Yes, here. *HOT TIP: Don't forget to check out the 'Easter Pack' which includes a delicious mix of three yuzu hot cross buns and three of their famed hot cross lamingtons!
Do they deliver? Yes.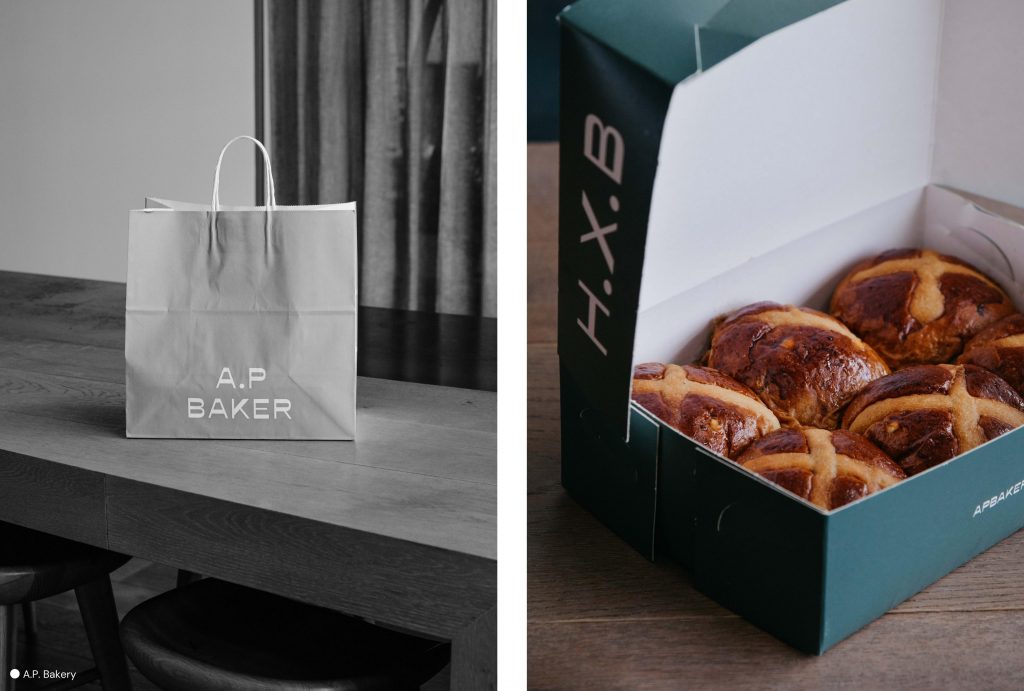 Operated by some serious hospo heavyweights, we (and the rest of Sydney) have been dying to get our hands on anything A.P. Bakery related ever since they started baking in 2021. With the recent opening of their first official location, perched on the rooftop of Paramount House Hotel, we couldn't wait to put in our order for their already famed hot cross buns. Baked using house milled and toasted spices, AP's buns are finished with a brown sugar and cardamom spiked glaze.
THE VERDICT:
Appearance
These looked absolutely amazing! They had a very delicious looking, deep brown colour, a lot darker than all the others. The cross on these is also diagonal instead, which is a cute little AP touch.
Aroma
These had a wonderful spicy, sweet aroma which gave us that big hot cross bun nostalgia hit when we opened the box. Delicious.
Flavour
The balance of flavours here was spot on, with a perfect amount of spice in these buns. The cardamom spiked glaze was also a fantastic addition, giving these buns their own unique flavour profile from some of the others. Also, a great mix of fruit which included apricot and citrus peel, though some of us would have loved there to be more fruit.
Texture
We had pretty high expectations for these buns texture wise, and they were definitely met.
Incredible texture. The perfect balance of soft and ever so slightly stretchy, these buns were an example of some damn good baking (as expected).

Traditionality
Flavour wise, these are quite traditional, but they also have a nice artisanal look about them, thanks to the rotated cross and that amazing dark brown colour. All in all, these buns are up there as some of the best.
"Texturally impeccable, lightly spiced and aromatically stimulating, AP's HCBs live up to the hype. Perhaps not as fruit packed as Racine but inarguably an excellent representation of the classic HCB" - Charlie
WHERE TO GET YOURS:
Can you order online? Yes, here.
Do they deliver? No. Pick them up at their Surry Hills rooftop location, or at Carriageworks Markets.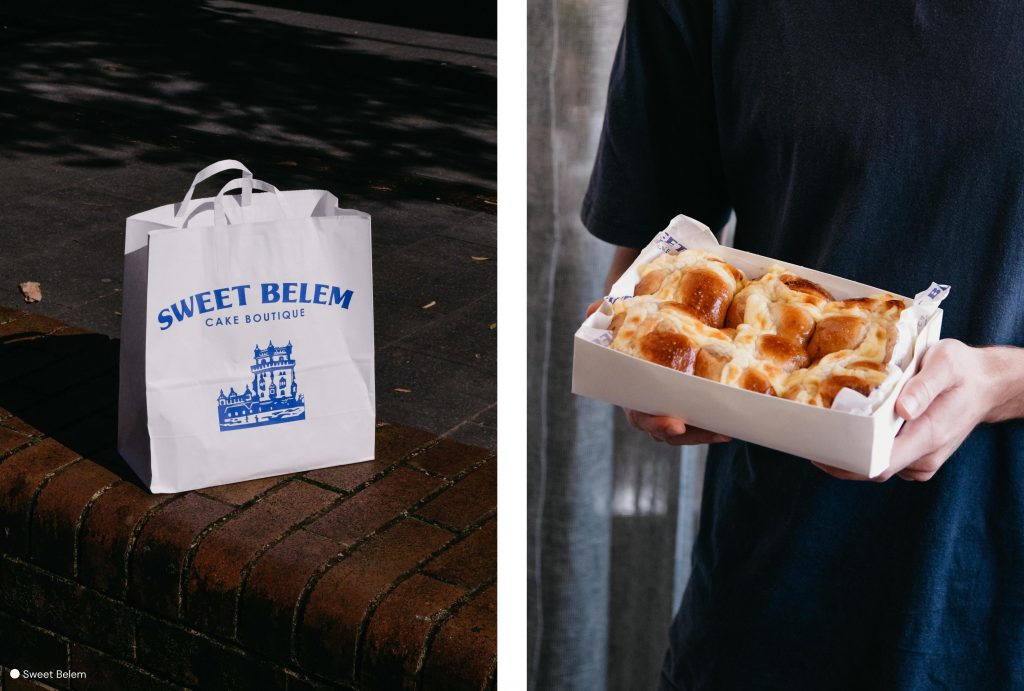 What is there to say about Sweet Belem - if you know, you know. This place is a Portuguese sweet-treat heaven, and when we heard they were doing hot cross buns with port-infused raisins and their signature custard cross, we knew they had to be on the list.
THE VERDICT:
Appearance
While these hot cross buns weren't very 'traditional' looking, they were certainly delicious looking! The custard cross gave them their own unique look - in a very good way. From the get go, these looked like they were going to taste amazing. (Spoiler: they did)
Aroma
We happened to pick these up early in the morning while they were still warm and the smell was honestly incredible. The mix of the freshly baked custard cross, combined with the cinnamon forward, warm spice smell was absolutely amazing!
Flavour
The custard cross adds a rich, dessert-like element to the flavour of these buns, which is enhanced even more by those port-soaked raisins. This made them feel like the most indulgent of all the buns. They were a bit lighter on the spice than some of the others, but we thought that worked, as it didn't overpower the custard and port flavours. The only thing we would say is that we would have loved a few more of those delicious raisins in there.
Texture
Picking these up while they were still warm from the oven, these buns were pillowy soft. The burnished custard cross on top also adds a soft, sweet element while you're eating these, which is as good as it sounds.

Traditionality
While these were potentially the least traditional of all the buns (no citrus peel or traditional cross) they were still one of the best. If you're looking for a more dessert-like bun (these would be amazing warmed in the oven with a scoop of icecream!) then do yourself a favour, and pick up some of these.
"Sweet Belem's addition of a custard cross to their rum-soaked raisin hot cross bun was certainly a hit with me, despite not being the most traditional of examples. Would I have another one? Absolutely." - Brendan
WHERE TO GET YOURS:
Can you order online? Not online per se, but you can phone or email Sweet Belem and order these delicious buns ahead of time for your Easter festivities. www.sweetbelem.com.au/contact-us/
Do they deliver? No to the buns, but yes to their other delicious treats via Ubereats and Doordash.
---
Well, that's our non-exhaustive list of our favourite hot cross buns for 2022. We all know nothing soothes the shorter days of summer's farewell like the sweet and spiced flavours of a hot cross bun (or 10). So go forth, order and eat too many this long weekend.
Didn't see your favourite in the list? Let us know what we're missing → info@nullpurefinance.com.au
*This was an independent review, and all hot cross buns were purchased by us (more than once we might add) which in our opinion, was money very well spent. Also, an extra special shoutout to Tommy from City Edge with the best "off menu" hot cross buns in Surry Hills.
Share this