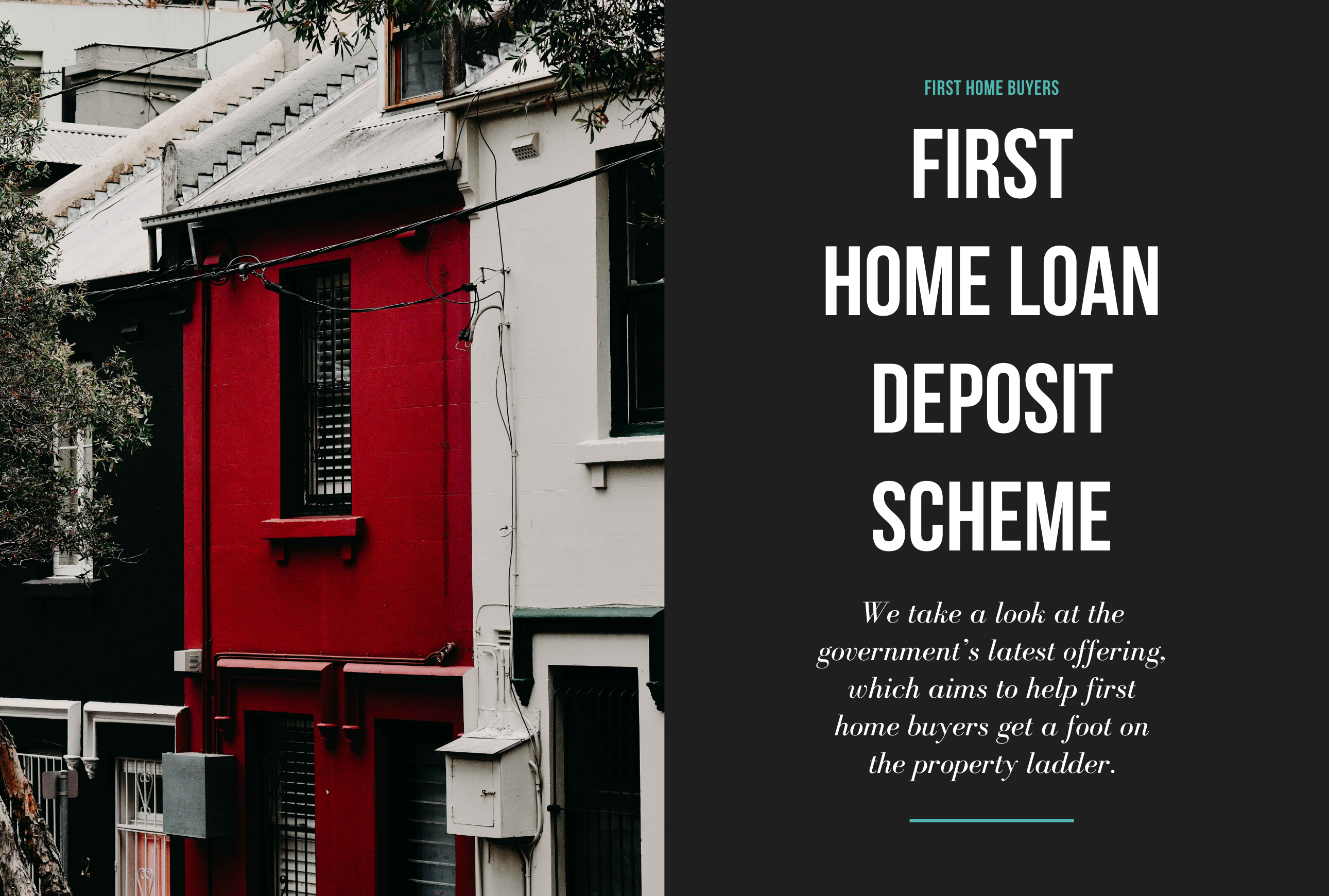 The government's new First Home Loan Deposit Scheme (FHLDS) is designed to help those looking to purchase their first home but are struggling to come up with the 20% deposit that is required in order to avoid having to pay Lenders Mortgage Insurance (or LMI: the fee charged by banks when a home loan is equal to more than 80% of the property value).
The Scheme officially came into effect on 1st of January 2020 and, now that it's up and running, we thought we'd put together everything you need to know about the FHLDS to see if it's right for you.
WHAT
FHLDS is an Australian Government initiative delivered in conjunction with the National Housing Finance and Investment Corporation (NHFIC) to support eligible first home buyers purchase a home sooner.
HOW
The scheme works by providing a deposit guarantee that will allow eligible first home buyers on low and middle incomes to purchase a home with a deposit of as little as 5%, without needing to pay LMI, with the remaining 15% to be guaranteed by the NHFIC.
WHEN
The scheme became available for eligible borrowers on the 1st of January 2020 through the participating major lenders and will become available through participating non-major lenders on the 1st of February 2020.
WHO
There are a lot of parameters around who exactly is eligible for the Scheme. These include:
An income test
For single applicants, taxable income for the previous financial year must not exceed $125,000

For couples, combined taxable income for the previous year must not exceed $200,000
A prior property ownership test
As the Scheme is only in place to help genuine first home buyers, this test will require borrowers to not have ever owned property in Australia before, including owner-occupied, investment or commercial properties. This also includes any properties that may have been owned with somebody else (i.e. a former spouse or de facto partner)
A citizenship test
The Scheme is only open to current Australian citizens and if borrowers are applying under the Scheme as part of a couple, then both will need to be Australian citizens.

The Scheme is not open for permanent residents who are not Australian citizens.
A minimum age test
Applicants must 18 years of age or over
A deposit requirement
The Scheme is to assist those who have at least 5% of the value of an eligible property saved as a deposit. If 20% or more is saved, then the home loan will not be covered by the Scheme.
An owner/occupier requirement
To satisfy this requirement, borrowers must move into the property within 6 months from the date of settlement or, if later, the date an occupancy certificate is issued. They must then continue to live in that property for as long as their home loan has a guarantee under the Scheme.
Still unsure if you're eligible? The NHFIC have a nifty tool on their website to help! You can find it here.

The Property Requirements
For a property to be eligible under the scheme it must be:
a 'residential property'

an existing house, townhouse or apartment

a house and land package

land together with a separate contract to build a home

an off-the-plan apartment or townhouse
Property Price Thresholds
Because the Scheme is designed only to assist in the purchase or construction of modest homes the following property price thresholds apply in capital cities, large regional centres and regional areas: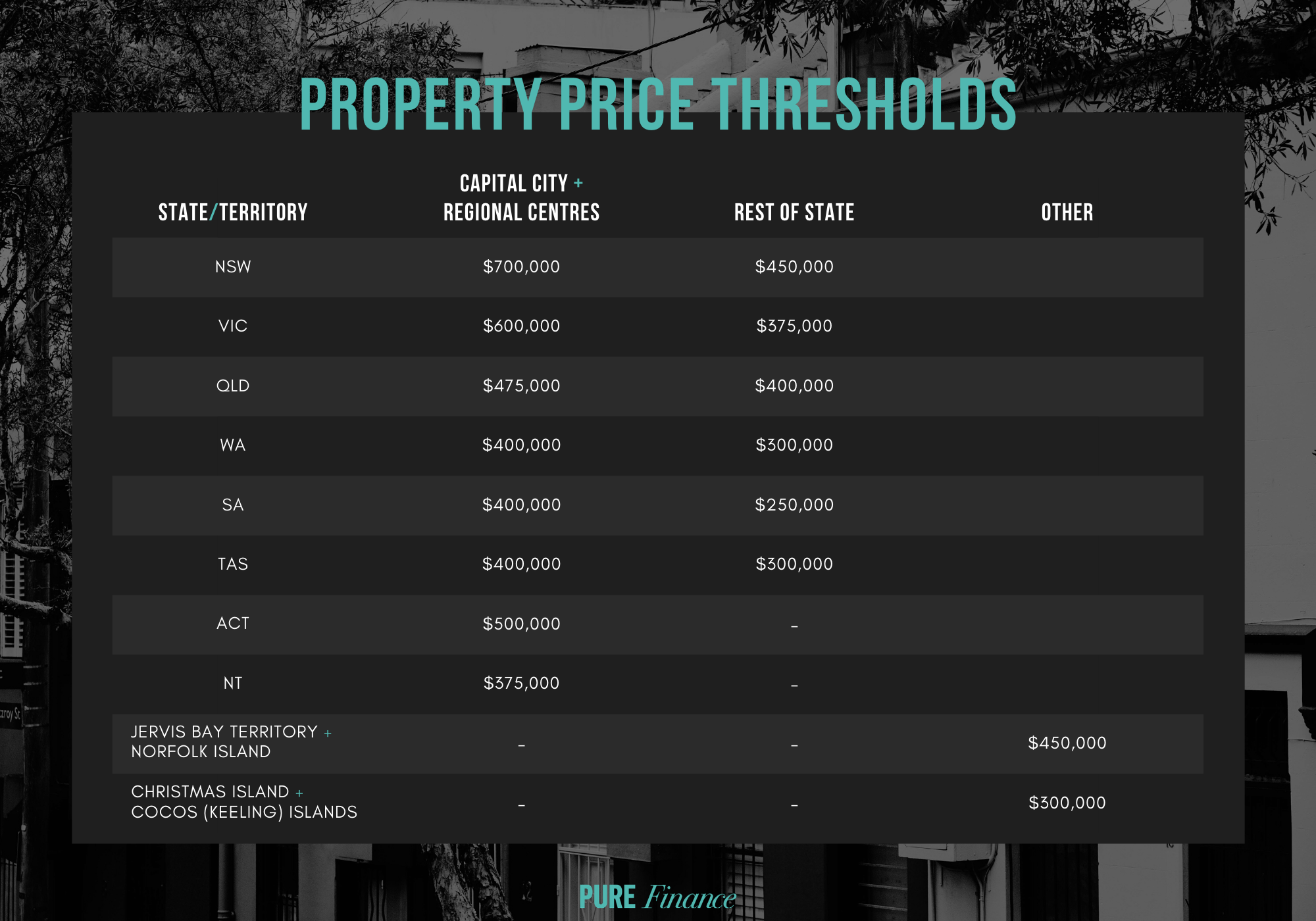 Unsure of the price threshold for the suburb you're looking in? You can use the NHFIC's property price threshold tool here.
The Loan Requirements
To be eligible for the Scheme, the home loan itself must:
be secured by a registered first ranking mortgage over the property

be secured by one of the 27 participating lenders (see full list below)

have no other registered owners at the time of settlement other than the eligible borrower/s

have 100% of the loan proceeds used for the purchase or construction of the property

have a loan amount not less than 80% and not more than 95% of the property value

have a loan term of 30 years or less

Be principal and interest loan repayments (except during construction phase) with an option for fixed/variable loan combo

allow for no changes to loan terms, such as an increased limit
Which Banks?
According to the NHFIC, the 27 participating lenders that were selected to take part in the Scheme were chosen 'on the basis of a range of criteria including the competitiveness of their home loan offering, geographic reach and readiness to meet Scheme implementation timelines.'
They have also outlined that, contrary to some earlier speculation, the chosen lenders won't be charging those on the Scheme a higher interest rate than those outside the Scheme (as we would hope not!)
The list of participating lenders are: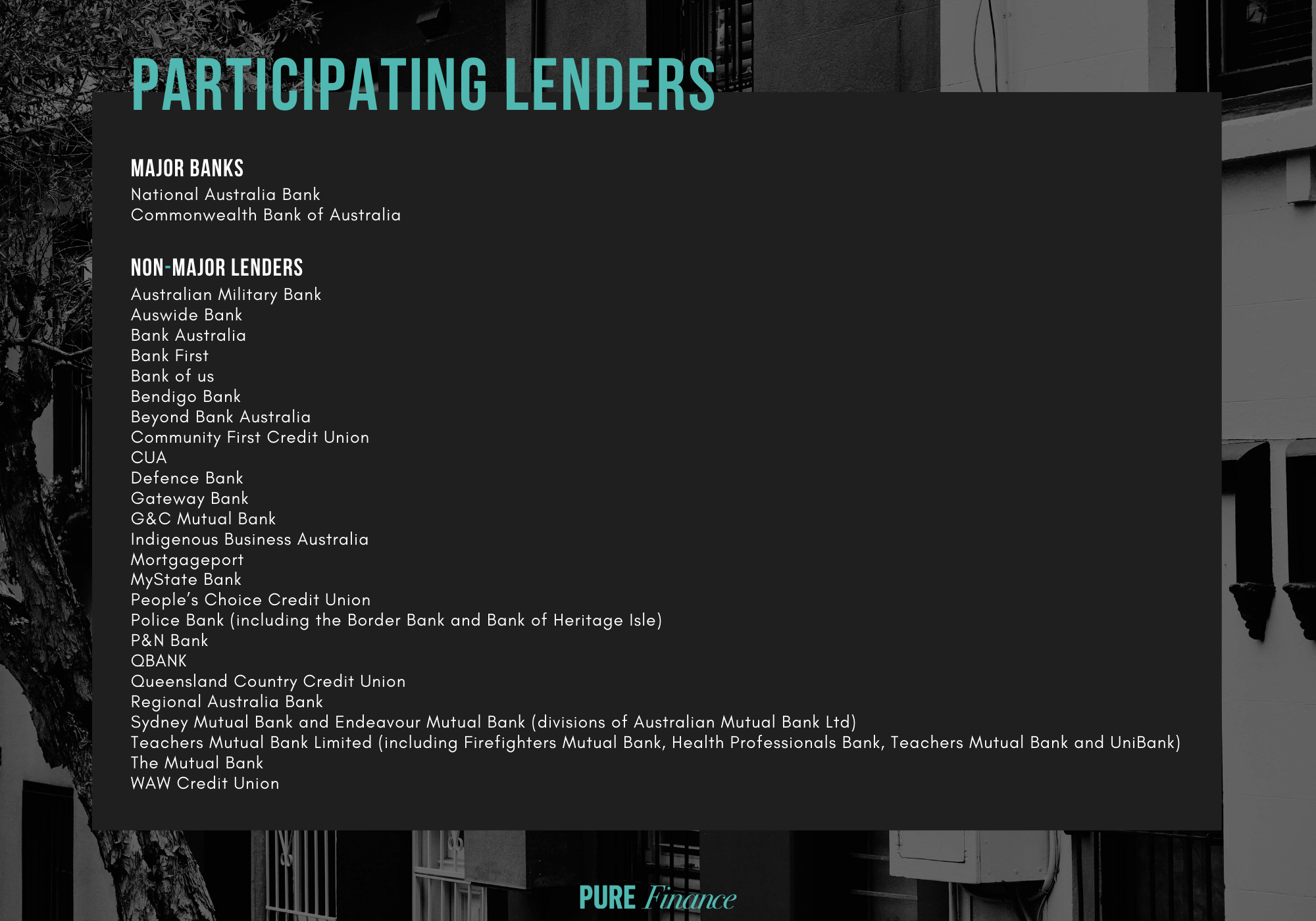 The Fine Print
Only 10,000 borrowers are eligible per year
This means there's just under a one in ten chance that prospective first home buyers that apply for the Scheme will be successful. These numbers look even worse if you factor in an increase in applications that will invariably occur now that the Scheme has officially launched. Even so, we'll keep our fingers and toes crossed for you…
It could end up more expensive long term
Whilst the Scheme will save borrowers from a potentially hefty LMI fee and help them to get into their own home sooner, it's important to be mindful that: the smaller the deposit, the bigger the loan (which means more interest paid over the life of the loan). Remember, if you're unsure, we're here to run through all the numbers with you beforehand.
It's not 'free money'
Rest assured, the banks will be running all their usual checks to make sure that borrowers under the Scheme will be able to afford loan repayments. This means, prospective borrowers will still have to meet the banks loan serviceability requirements around income and expenditure, so it's worth looking at how much you'll be able to borrow before applying. In case you were wondering, we can help with that too!
Got a question about the FHLDS that we didn't answer here? Drop us a line!
Share this