There's no doubt that purchasing a property is a huge milestone, and for many of us, features high on our list of financial goals. However, with Australian house prices seemingly forever on the increase, particularly in our capital cities, the steps between wanting a property of your own and actually getting one can often feel disconnected and overwhelming.
So, let's break the whole process down step by step, in language we can all understand, to help you feel more 'at home' with the process of buying one.
Step 1: Mindset
The process of buying a home can produce a veritable rollercoaster of emotions. So, we think that starting the process by setting realistic expectations and fostering a healthy mindset is a really important step.
It is completely normal to feel 'out of your depth' or to experience a few hiccups along the way. Whether you miss out on a property (or three) at auction, or receive a less than impressive building report for the property you thought was 'the one', there are going to be times when you ask yourself - is it all worth it?
By being mentally prepared for the bumps in the road and having a team of supportive advisers to lean on if/when they happen - we believe the journey is absolutely worth it, and we know you will too. Remember, no matter what happens you are up to the challenge, and future you will be thankful you stuck with it!
Step 2: Expenses and budgeting
Time frame: 1-2 hours
Other things you might need: your bank statements and recent transaction history, budgeting apps/resources
We're sure you're more than aware of the sizeable financial commitment that is purchasing a property, so to ensure that you aren't going to over commit yourself with a mortgage that you can't manage, it's important to get very clear on your expenses straight up.
Love a daily coffee (we do!) or are you someone that really enjoys eating out a lot? It's totally ok if you are, as long as you factor these, and your other monthly expenses into your budget. Our biggest piece of advice here? Be realistic. If you don't allow for real expenses, and then go and borrow a whole bunch of money, you're not going to have a lifestyle that you enjoy because all of your income will go towards paying your home loan. Mortgages are a long-term commitment and while you might be okay living on a shoestring budget for a little while in order to get yourself into the property market, you probably don't want to be throwing everything and the kitchen sink into yours for 30 years.
This step will also be important further down the line when you start talking about loan amounts and repayments. So, be honest with yourself and remember - no judgement here! For us, It's about helping you find that finance 'sweet spot' so you can live a life you love, in a home you love.
Step 3: The finance
Time frame: Anywhere from a few days to a few weeks
Other things you might need: Mortgage Adviser
While it seems simple enough to pop into your local bank branch and ask them for a home loan, there is actually a lot to know when it comes to getting the best home loan for you personally. The good news is, you don't have to do it alone, and engaging a trusted mortgage adviser/broker is a great (free!) way to make sure you're getting a great loan, while also outsourcing some of the finance work (which can be time-consuming, stressful, and lets be real, boring for some).
While of course everyone's circumstances are different, in a nutshell the finance process will look something like this:
● Define your strategy - Will this property be a home for you to live in? Or an investment property? Are you flying solo or buying with a partner? Your purchase strategy will impact your finance in both the short and long term, so it's important you are clear on your goals for the purchase and what you're hoping to achieve.
● How much can you borrow? - In terms of borrowing money from the bank, there's an amount you could borrow and an amount you should borrow, and we think it's really important to keep this in mind (remember those expenses we were talking about earlier?) Speaking very generally, you can normally afford to borrow approx. 6 x your annual income as a loan amount, though this varies between the banks, and depends on other factors like existing loans and credit cards.
● How much deposit do you need? - A 20% deposit is great if you can manage it, and it will save you from paying something called Lender's Mortgage Insurance (LMI). However, these days, not having a hefty deposit is not necessarily a deal breaker. If a 20% deposit is out of the question for you, there are also low deposit and no deposit options available, depending on your circumstances. On the flip side, there is no deposit amount that is 'too large' and the bigger your deposit, the smaller your loan. Which also means - smaller interest costs for you in the long run. (v. good)
● Are you eligible for any government grants or schemes? - For first home buyers, there are a whole range of grants and schemes available to help reduce the costs of your first property purchase, and help you get into your first home sooner. Here's our comprehensive list of what's available both nationally and in your state.
● The purchase breakdown + costs - Once you've worked out how much you can borrow and organised your deposit, you can then start to put everything together, and get a clearer picture on the actual total cost of the purchase, as well as get an indication of what your loan repayments will be.
● Choosing your lender and loan - There are (quite literally) thousands of different loan products out there, and being able to navigate the market, let alone choose one, can be really overwhelming. If you choose to work with a mortgage adviser, they'll be able to give you a shortlist of the best options available to, and for you from a range of lenders, which will make things a lot simpler. If you do go it alone, remember that the major banks aren't the only option, and more often than not, you can find better deals at some of the smaller lenders.
● Getting loan pre-approval - If you take one piece of advice away from this guide, make it this: it is a VERY good idea to get your finance organised before you begin your property search. Having your finances sorted (or obtaining pre-approval) will mean you know exactly how much you can afford, and that you are actually able to borrow the amount you need from the bank. The pre-approval process is also when any potential hurdles tend to arise, so if you're looking for peace of mind, you're most likely to find it here. Typically, a loan pre-approval will last between 3 - 6 months, depending on the bank, and as long as most of your financial circumstances stay the same (i.e. income/expenses) it's easy to have it renewed if you don't find a property in time.
Step 4: The property search
Time frame: 1 week - 6 months
Other things you might need: Buyer's Agent, Free weekends
Ready to say goodbye to your Saturdays and go property hunting? To make your life easier, have a look at recent sale prices of similar properties in the area you're looking to buy so that you become more familiar with the market and set your expectations at the right level. If it's all a bit too overwhelming, a buyer's agent can help you find and negotiate on a property for a fee. This could be a good option for you, particularly if you're short on time or get a little stressed at auctions. A buyer's agent can also be useful in helping you to access properties that are being sold 'off market' which can make a big difference, especially when the market is a hot one.
Step 5: The purchase
Time frame: 2-4 days
Other things you might need: Solicitor/conveyancer and a steely resolve
So, you've found the property of your dreams and you want to make an offer? Fantastic! You'll either buy the property via private treaty (i.e. making an offer to the selling agent) or at auction. In some circumstances, you can buy a property set to go to auction beforehand by making a pre-auction offer, it all depends on the individual property and vendor. Either way, it's really important to have your solicitor or conveyancer look over the contract before you commit to the purchase to make sure there are no hidden legal nasties. Whether you choose a solicitor or a conveyancer, they are there to protect you, so make sure you engage someone you feel comfortable with. Similarly, it's important that you get a pest and building inspection carried out, to identify any problems that may be lurking undetected in the property.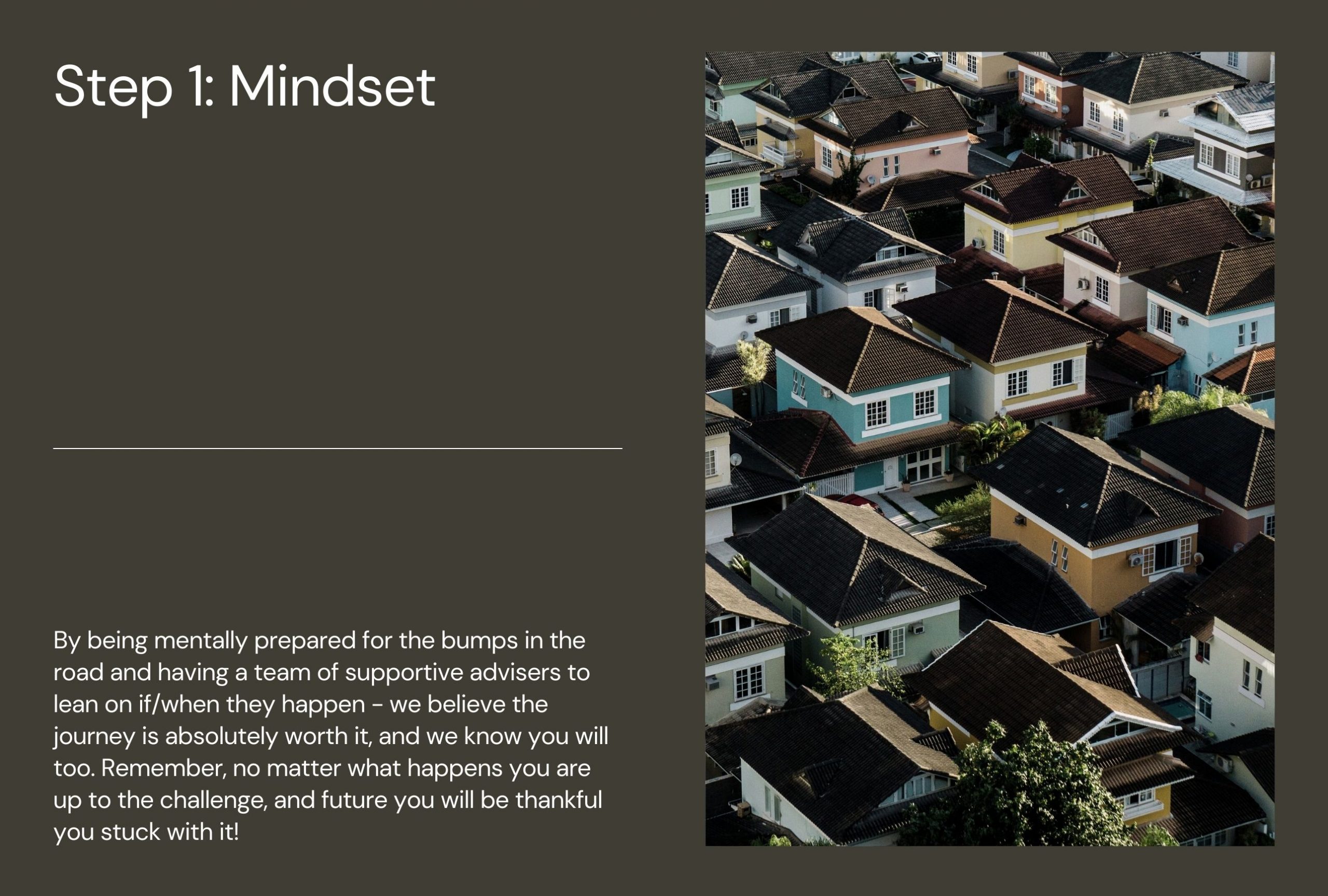 Step 6: Exchange and Settlement
Time frame: 6 weeks (42 days) on average (can range from 4 weeks to up to 6 months in certain circumstances)
Other things you'll need: Solicitor, mortgage adviser or bank, your deposit and signed contracts
At this point, you've either had your offer accepted, or you were the winning bidder on auction day - congratulations! There are still a couple more hurdles to jump before you take ownership of the property officially.
'Exchanged' is the term used to describe the event where you have paid the required deposit and both parties (buyer and seller) have signed the contract with the agreed price. Once this happens, a 'settlement' date is set (typically 42 days from the exchange) and on that day the bank will provide the funds towards the purchase, your solicitor will help manage the preparations and will advise you of your remaining deposit contribution. As soon as settlement has happened you can collect the keys from the real estate agent and the property is now (officially) yours. Cheers! 🥂
Step 7: Annual loan reviews
Time frame: every 12 months
Other things you might need: a good mortgage adviser or impressive organisational skills
The thing about a great home loan is that it doesn't always stay great. Banks can be sneaky, and sometimes adjust interest rates over time. Considering that property is an investment, you should always be looking to make sure you're keeping your costs as low as possible, which means keeping tabs on your home loan interest rate.
We think this is so important that we actually review the loans of all of our clients every 12 months, and renegotiate their interest rate lower wherever possible. This helps ensure the lowest possible costs are maintained on their loan over the long term, and saves them having to do it themselves. You can see the savings we achieved for our clients in 2020 here. ↗︎
---
Well, there you have it! (it wasn't so bad was it?) By breaking the process down step by step, we hope we've helped alleviate some of the mystery and confusion around what actually goes into it. And as always, if you'd like to chat some more, we're only a phone call or email away!
1300 664 603
info@nullpurefinance.com.au
The finance information contained in this post is general advice only, and doesn't take into account your personal circumstances or goals. You should always reach out, or seek professional advice, before making any financial decisions.
Share this