*As an organisation, Pure Finance is committed to putting 5% of its revenue to work for good. Of that 5%, we designate 1% to supporting community organisations working hard to protect our environment, and another 1% goes toward Paying the Rent. The final 3% is set aside for the upcoming launch of a new not-for-profit - Yours.
While the catastrophic flooding events that ravaged Australia's east coast last month may have left the headlines, the clean up and recovery efforts for affected communities is far from over. In what has been described as some of the worst floods in living memory, combined with reports of inadequate and woefully slow moving government support (which has left many of the worst hit communities behind), the situation in the Bundjalung/Northern Rivers region has become particularly critical.
No one is better positioned to help than those who are currently on the ground, which is why we've committed both of our Q1 donations to local organisations who are clearly making an impact.
PAYING THE RENT - The Koori Mail
100% Aboriginal owned and self-funded, the Koori Mail is Australia's only fortnightly national Indigenous newspaper. Since 1991 it has acted as a platform for the voices of Indigenous Australians, something that has been historically absent or widely underrepresented in the mainstream media. The newspaper is wholly owned by five Bundjalung Aboriginal Community Organisations, and all profit is returned to Indigenous Australians as dividends for their owner organisations, scholarships for Aboriginal and Torres Strait Islander students, and sponsorship of Indigenous community events.

Based in one of the worst hit areas during recent flooding events, Koori Mail suffered significant damage to their headquarters and for a period of time, were forced to halt production of the newspaper for the first time in 30 years. Despite suffering extensive damage themselves, they began coordinating massive flood relief efforts from their Lismore office, now temporarily known as The Koori Mail Flood Relief Hub. They have become the lifeblood of their community during this time, particularly in the absence of timely and adequate support from government and larger well-known charities.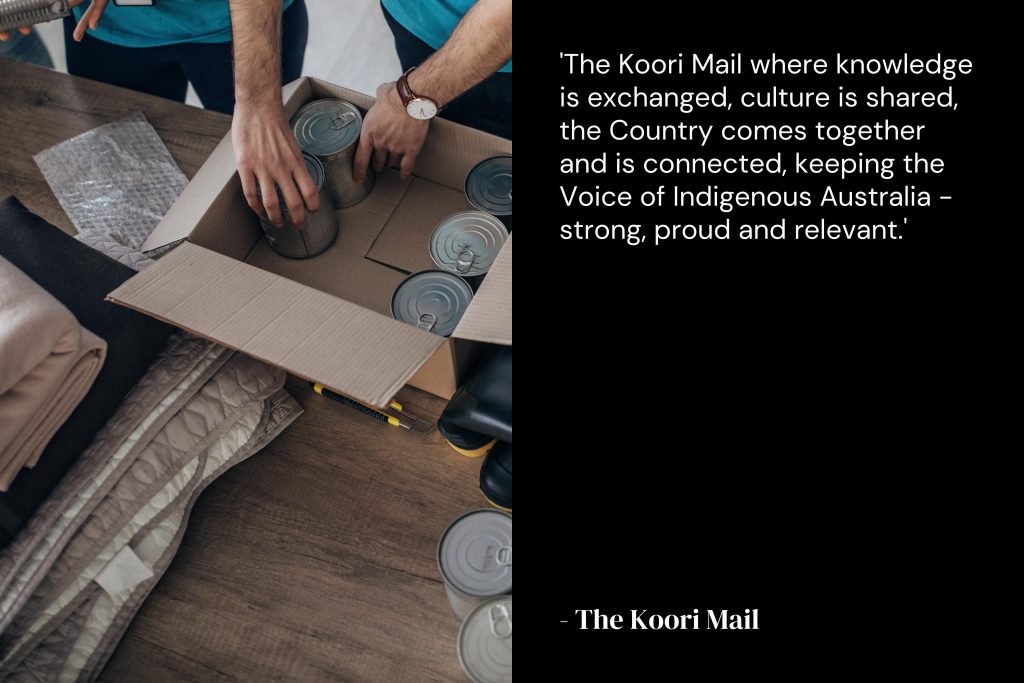 Bundjalung Community Flood Relief
While they don't ordinarily operate in the crisis relief space, Koori Mail have been (and still are!) instrumental in coordinating the community-led recovery in Bundjalung. Providing emergency relief to everyone, from individuals and families through to local businesses. By converting their headquarters in Lismore into a makeshift support centre they've established a hub through which the community can find access to essential goods and services such as temporary accommodation, food, medical supplies and other essential items, legal advice, community support, and general assistance.
"We have a GP, a registered nurse, we have a diabetic nutritionist coming down today because a lot of our mob, you know, have chronic disease, and need to have access to healthcare for that"
- Koori Mail General Manager, Naomi Moran, speaking with VICE
To sustain the provision of these essential services Koori Mail have been fundraising for the Bundjalung Recovery Relief Fund via GoFundMe. Registration for support from this fund is open to individuals and families to assist with re-furnishing of homes, cost of repairs (home owners), and/or to cover the costs associated with new rentals or accommodation. Indigenous community organisations and NFP's can also register for support for the rebuild and repairs of office premises, rebuild and repairs for their tenants of Aboriginal housing, and/or to provide other support for Indigenous communities that have been affected.
For this quarter, it was our privilege to be able to give $​​3,255.00 towards the Koori Mail's Bundjalung community flood relief campaign and to support an impossibly resilient community that, from their own accounts, have had to orchestrate and self-fund their own flood recovery. At the time of writing, the campaign has received 98% of the $1.25m they are seeking for the Bundjalung Community Flood Relief GoFundMe, and with hundreds of registrations already coming in from the Lismore, Coraki, Casino, Wardell, Cabbage Tree Island, Ballina, Tweed Heads, and surrounding areas, it is so important that this community receives as much support as possible, as quickly as possible.
You can donate to the Koori Mail's Bundjalung Community Flood Relief GoFundMe here and you can follow for updates via their instagram page here.
Why not also support the Koori Mail by subscribing here, or picking yourself up a copy of their latest edition at any of these news outlets.
FOR THE PLANET – Northern Rivers Community Foundation
According to the UN's Intergovernmental Panel on Climate change, over 20 million people have been internally displaced by extreme weather-related events since 2008, with storms and floods being the most common drivers. The Panel also suggests that a noticeable increase in catastrophic events, such as those that have recently struck our east coast, are human-made.
Amidst the horror at the sheer force and extensive damage that these flooding catastrophes have left in their wake, is the equally concerning realisation that such events could very well be our 'new normal' - climate change, it would seem, has well and truly begun.
Turning our focus again to flood-stricken communities in the Northern Rivers region, we were also honoured to be able to give $3,255.00 to the Northern Rivers Community Foundation (NRCF) as they work to support the community through early, medium and long term flood recovery phases.
Connecting people and communities to tackle challenging social and environmental problems in the Northern Rivers, the NRCF has a unique model: they invest donor money into a perpetual fund and donate the interest and dividends from those investments in the form of community grants.
With a very wide scope due to their funding model, NRCF don't provide specific programs or services themselves, but rather provide funding to a wide range of organisations based in the Northern Rivers that themselves work directly with the local community. They have a number of named funds, many of which focus on the maintenance and protection of the environment in such a unique and diverse part of the world. By being embedded in a particular region and working with a range of community groups within that region, NRCF are able to respond to local needs, as determined by the community itself, effectively and meaningfully (sort of like Pure Community does). Plus, the donation of profit and dividends earned through ethical investments makes their impact twofold, first by investing ethically from the outset, and then by giving the profits from these investments back to the community to continue the cycle of support for local environmental and social causes).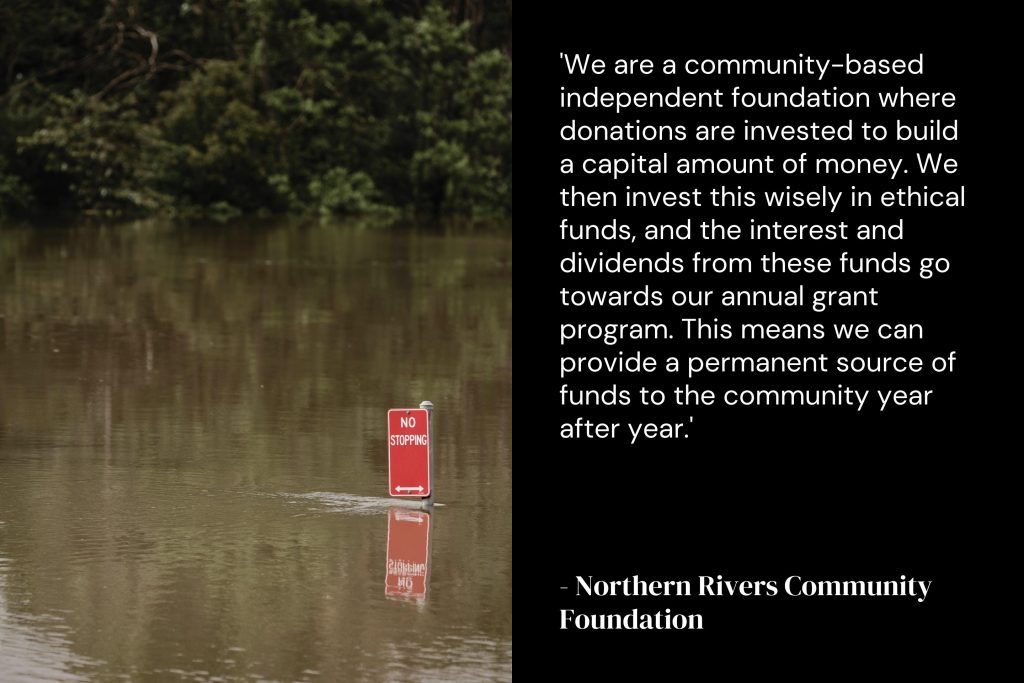 NRCF's Resilience and Regeneration Fund + Quick Response Flood Relief Grants
To support the NRCF's flood recovery efforts, we've donated to their Resilience and Regeneration Fund which will direct money to local organisations who are well placed to provide support through their connections with community, access to resources and first hand knowledge of community needs.
Over the last two years, NRCF has provided grants ranging from hundreds to tens of thousands of dollars through this fund and with a growing number of recipients year on year, the impact has been spread across the far-ranging community, addressing a variety of needs.
In response to the recent flooding events, NRCF has partnered with Byron Community Centre to offer quick response grants of up to $10,000 for not-for-profit community organisations, providing flood relief and recovery across the whole Northern Rivers Region. Grants will be awarded on a weekly basis, with applications closing at the end of April.
If you'd like to support the wonderful work of the NRCF, you can donate via their website here. To see their impact in 2020, you can read their Impact Report here.
---
On behalf of all of us at Pure Finance, we want to say a big thank you to all of the people working hard to make our world a more just and equitable one. It is an honour to be able to support your work in ways both big and small.
If you want to learn more about Pure Community, you can visit: www.purecommunity.co or get in touch with us.
*Pure Community and Pure Finance have no direct affiliation with the organisations and causes listed above, we simply appreciate the work that they do, and choose to show our appreciation by donating to them.
Share this