"This needs to be a wake-up call to everyone: teenage bullying and teasing is an epidemic…and the death rate is climbing." – Ellen DeGeneres
In 2010, after intense bullying and discrimination, several rainbow young people took their own lives in the US, sparking a global discussion around the damage being done to the mental health of rainbow youth around the world. These tragic events were a call to action for many, and saw the creation of a then small, grassroots campaign titled Wear it Purple (WIP) that was established to show rainbow young people that there was hope, that there were people who did support and accept them, and that they have the right to be proud of who they are.
Fast forward 9 years and WIP has grown into an international movement. One that continues to foster supportive, safe, empowering and inclusive environments for rainbow youth across the globe.
Just in time for Wear it Purple Day 2019 (30th August) Pure Community is proud to be supporting WIP and doing our part to help build a future of equality and inclusivity for all rainbow young people and their communities.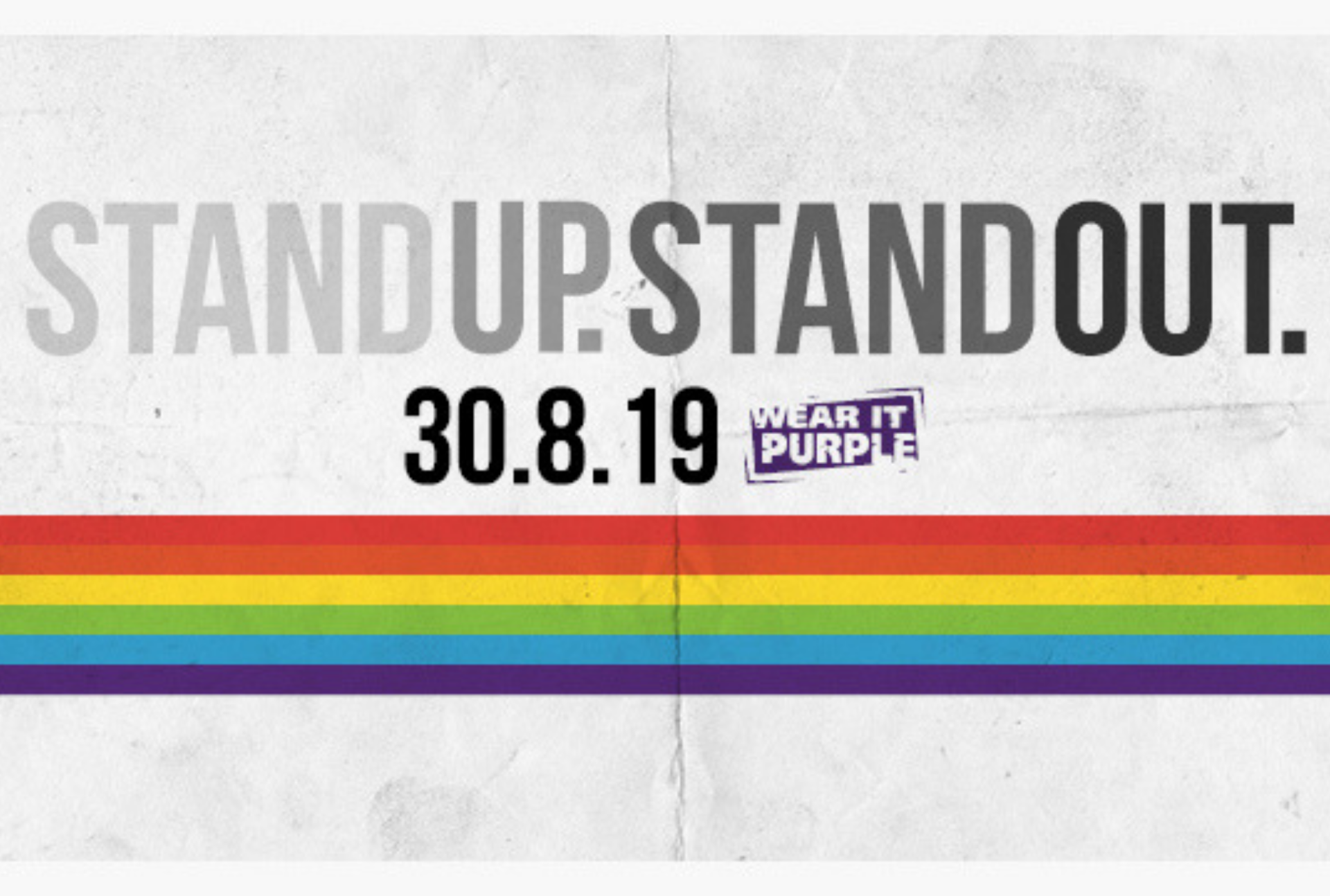 "We know young people change the world, so they are at the core of what we do!" – Wear it Purple
About Wear it Purple
Founded in 2010 by Katherine Hudson and Scott Williams, WIP has four key focus areas:
Awareness – WIP provides support and resources for Schools, Universities, Gender & Sexuality Alliances (GSA's) and Youth Organisations to assist them in creating inclusive experiences for rainbow young people. They act as a source of resources to support the effective delivery of Wear It Purple Day in Schools, Universities, Workplaces and the broader community.
Opportunity - WIP provides meaningful opportunities for rainbow young people to develop their skills, expand their network and contribute to the inclusivity of their communities.
Environment – WIP provide supportive & safe spaces (digital and physical) and contribute to a world where young rainbow people feel proud of who they are.
Collaboration – WIP collaborate and unite with other organisations to further the inclusion of rainbow young people. Through partnerships, they support the effective delivery of Wear It Purple Day in Schools, Universities, Workplaces and the broader community.
In their important and often lifesaving work, WIP is driven by the following principles:
Advocate for and empower rainbow young people

Celebrate and promote the value of diversity and inclusion in all community setting

Raise awareness about sexuality, sex and gender identity and challenge harmful social cultures

Champion rainbow role-models to help young people establish the confidence to be who they are.

Wear it Purple Day 2019
An inclusive nationwide event that began in 2010, Wear it Purple Day encourages all Australians to don their purple-y best in support of rainbow youth, and show their solidarity with rainbow young people at their school, university or workplace.
Held on the last Friday in August, the day experiences exponential growth each year, with increased levels of participation indicating a move to greater acceptance and inclusion.
Wearing purple on August 30, is an incredibly simple yet powerful way that we can make our support for rainbow young people visible. To show them that they are seen, they are valued and that they matter.
So, how else can you get involved in "Wear it Purple Day' celebrations this year?
Participate in Wear it Purple Day on August 30 and register your event here
Purchase t-shirts, wristbands, shoelaces, and more from the Wear it Purple online store to help show your support visibly. All proceeds go back into the organisation and enable them to run more WIP Day events, as well as initiatives for rainbow young people throughout the year.

Put up posters, decorate your work locations, or even your building in purple

Broadcast your participation! When posting on social media, use the hashtag

#wearitpurple

and be a part of the nationwide celebrations
Make a donation to support the important work of Wear it Purple here
At Pure Finance, we resolutely believe in a future of equality and diversity. One in which everybody, no matter who they are, has the right to feel seen, respected and valued.
It's an honour to support Wear it Purple as they campaign to help empower our rainbow young people to be proud of who they are, and to know that exactly who they are is exactly enough.
If you too would like to show your support for Australia's rainbow youth, you can donate to Wear it Purple here or head here for more info on Wear it Purple Day 2019.
*Pure Community and Pure Finance have no direct affiliation with the organisations and causes listed on this page, we simply appreciate the work that they do, and choose to show our appreciation by contributing to them. 
Share this