There are over 2 million small businesses operating in Australia. The allure of working for ourselves and creating a work-life schedule that suits our lifestyle is a major motivator for those of us looking to make the leap from employee to employer. But starting your own business isn't without its risks and it's important to understand these, as well as the costs involved, before you begin the business ownership journey.
Whether you're looking to purchase a successful company or build a start-up from scratch, discover what business loans are available, how to select the right loan for your business, and how to assess the affordability of a potential loan below.
What type of loans are available?
In most cases, you'll need to secure finance to purchase or build a business. The two main types of loans available to businesses are secured loans and unsecured loans.
Secured Loans
A secured business loan requires you to have assets on-hand (whether that's personal or business assets, including property, vehicles, or business equipment) to attach to your loan to act as collateral. These are typically accessed through a bank and are best for securing larger loans. By offering up your assets as collateral, the risk is lower for lenders who know they'll be able to recoup their losses if you can't make the loan repayments.
The benefits of a secure loan are that you'll generally receive a lower interest rate as there's less risk associated with your loan. Plus, you'll be able to access a higher loan amount and a longer loan term (anywhere from 12 months to 30 years). However, the application process is much stricter and more complex and it can take a longer time to access finance.
Typically, secured loans are best for businesses that are:
Looking for large sums of finance
More established and have several assets to offer as collateral
Seeking to make repayments over a longer-term period
Unsecured Loans
As for unsecured business loans, there is no collateral required and are usually accessed by newer businesses that need funds quickly. These loans are best for businesses looking for smaller loans and tend to attract higher rates as lenders are taking on more risk.
The biggest benefit of an unsecured loan is the fast application process, which can take as little as 24 hours to receive approval. However, it's important to note that your interest rate is usually higher and you'll only be able to borrow between $50,000 and $500,000 in most cases.
Typically, unsecured loans are best for businesses that are:
Small to medium-sized businesses with few or no valuable assets
New in the industry and need access to finance fast
Able to repay the loan over a shorter period of time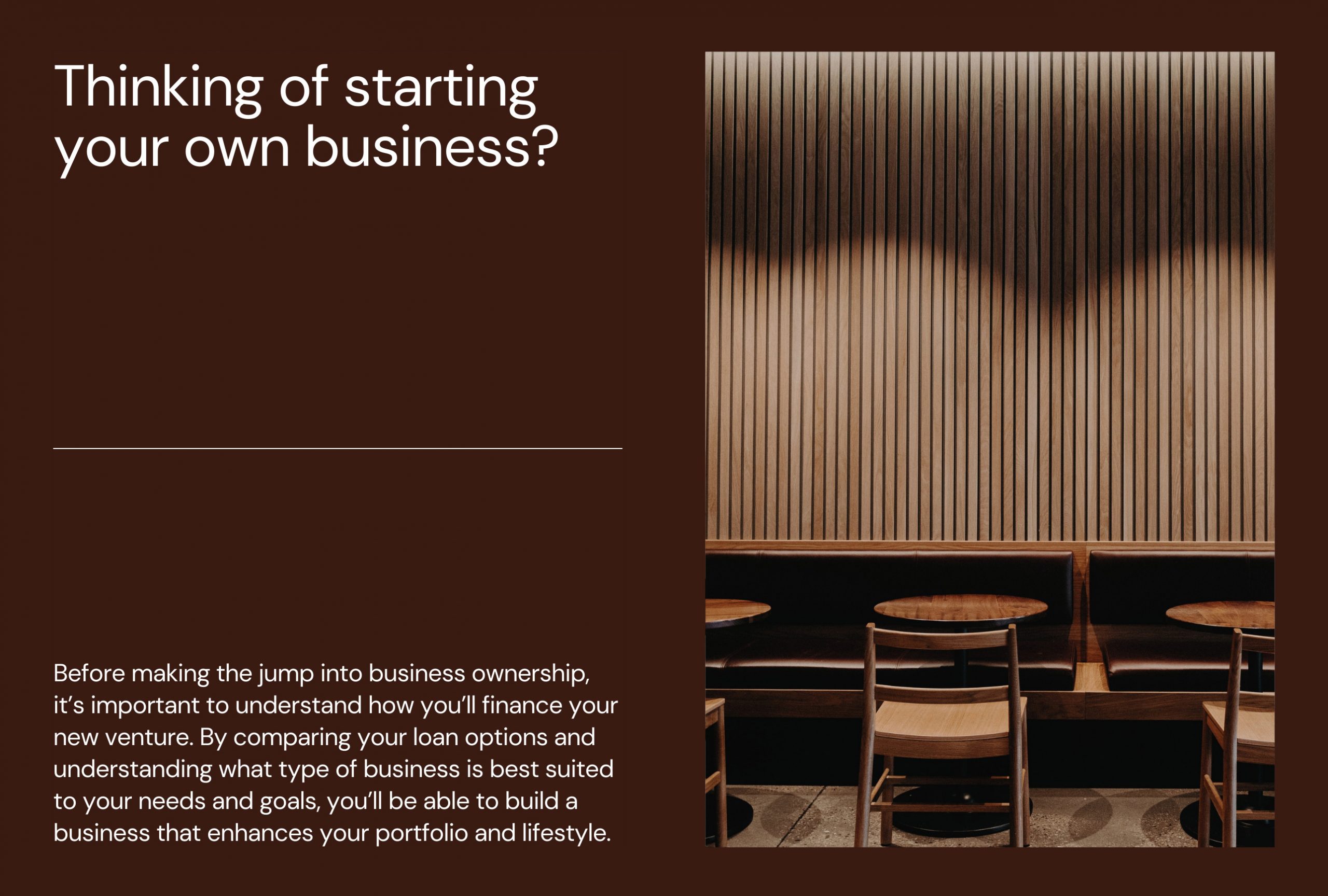 What's the difference between buying an existing business or building a business from scratch?
There's no one-size-fits-all approach to owning your own business. For some, purchasing an established business might make the most sense. For others, starting a business from scratch may be the best option. To find out which path to business ownership is right for you, here are a few things to consider.
Buying an existing business typically offers a lower-risk option, particularly if you've secured a profitable business at a good price. Plus, you'll skip the challenges of the 'start-up' phase and will immediately reap the rewards of profits and positive cashflow. With systems and procedures already in place, you'll acquire existing customer and supplier relationships as well as a team of experienced employees.
However, these are disadvantages to keep in mind, including:
Major improvements or investments may be required to update business equipment
A large up-front investment will need to be made to secure the business
Inheriting internal issues such as poor management and low staff morale
Buying a cheap business may mean you secure an underperforming or unprofitable company
If you're looking to develop your own idea and build a business from the ground-up, starting a company from scratch may be the best option. This is generally a more cost-effective way to start a business and gives you a greater sense of agency and control over every aspect of the company from the beginning. But there are also disadvantages to be aware of, including:
The challenges of creating a base of customers and building a team
The time and effort of developing unique products and services and marketing your business
Establishing positive cashflow without an established track record in the market
Difficulties securing loans and finance due to the high risk of failure for new businesses
Counting the costs of loan repayments: what can you afford?
Whether you're buying an existing business or building one from scratch, it's important to understand the costs of servicing a business loan. Particularly in the case of new businesses, managing cash flow can prove a major challenge, making it essential to figure out whether your business loan repayments will fit in your budget.
The key factors for assessing the affordability of a business loan are:
Loan amount: how much are you borrowing from your lender?
Interest rate: is it fixed or variable, and have you budgeted for rate changes over the term of your loan?
Establishment fees: are there any fees or upfront costs charged by your lender?
Loan term: how long is your loan, and how much interest will you pay in the months and years to come?
---
Before making the jump into business ownership, it's important to understand how you'll finance your new venture. By comparing your loan options and understanding what type of business is best suited to your needs and goals, you'll be able to build a business that enhances your portfolio and lifestyle.
The finance information contained in this post is general advice only, and doesn't take into account your personal circumstances or goals. You should always reach out, or seek professional advice, before making any financial decisions.
Share this