Over the years, our needs and lifestyle will change. The first home you purchase isn't likely to serve you for the rest of your lifetime, meaning you'll need to consider when is the right time to upsize and make your next move. And once a large property or family home no longer suits your needs, what should you consider when downsizing?
The decision to purchase your next home needs to account for both your lifestyle and financial circumstances. From understanding your options for accessing finance to counting the costs of moving, let's explore everything you need to consider when buying your next home.
Clarify your goals for your next home
The first step to buying your next property is to consider why you're eager to move in the first place. For young growing families, the need for extra bedrooms, a backyard, and extra living space might be the biggest priorities. For empty nesters, or for those of us whose house party days are over, securing a low-maintenance townhouse or apartment might be the main motivator for a change.
Whatever situation you find yourself in, make to sure consider:
What are your long-term property goals, and how does this move fit into your 5, 10, and even 20-year plan?
Where do you want to live (both now and in the years to come)?
How much space do you need, and what are the associated maintenance costs?
Are you looking to renovate your new home or would you prefer a turn-key property?
What is the resale potential of this property?
How do the anticipated ongoing costs such as strata and land tax fit into your budget?
How to access finance for your next home
Once you've established your property goals, it's time to look at numbers. Making a successful purchase means having a clear view of your finances and the options you have to fund your next property purchase.
Depending on your situation, there are a few options to consider, including:
Using your current home's equity to buy your next property: the value of your property (minus how much you owe on your mortgage) is known as the equity in your home. You can access this equity to make your next property purchase in a few ways, including:

Refinancing/topping-up/ releasing equity: by refinancing your mortgage (switching home loans) to a new lender, or by 'topping-up' your existing mortgage, you'll be able to use the equity in your home in place of a deposit. Typically, you'll be able to borrow anywhere from 80-95% of your home's value when refinancing.
Cross collaterisation: this process involves offering existing property as additional security over you loan. This can be riskier strategy than an equity release as you have more 'on the hook' in the event that you're unable to service your loan.
Line of credit: while a line of credit loan is often more expensive, it can offer greater flexibility. Similar to a credit card, this line of credit offers a pre-approved limit (based on your home's equity) that you can access when you need it (such as in the case of buying a new home). Plus you'll only be charged interest on the amount of credit you use.
Reverse mortgage: this allows you to borrow against your equity and is typically accessed by older Australians whose wealth is tied up in assets such as their home. Typically after the age of 60, you can borrow between 15-20% of the value of your home and you're not required to make repayments while you live in the home. To find out more about the pros and cons of a reverse mortgage, click here.
Applying for a new loan: as you did with your first property, you can also apply for an additional mortgage to finance your next property purchase. It's important to note that your current home loan (and any other ongoing liabilities) will be taken into account by lenders when they access your borrowing power. However, you can offset this by offering a sizable deposit.
Bridging finance: if you're in between selling your existing home and buying your next property, you can access a short-term bridging loan (using with a term of 6 to 12 months) to cover both your existing loan and new debt. Make sure to do your research and understand the features, conditions, and structure of the loan to ensure you don't put yourself under unnecessary financial strain.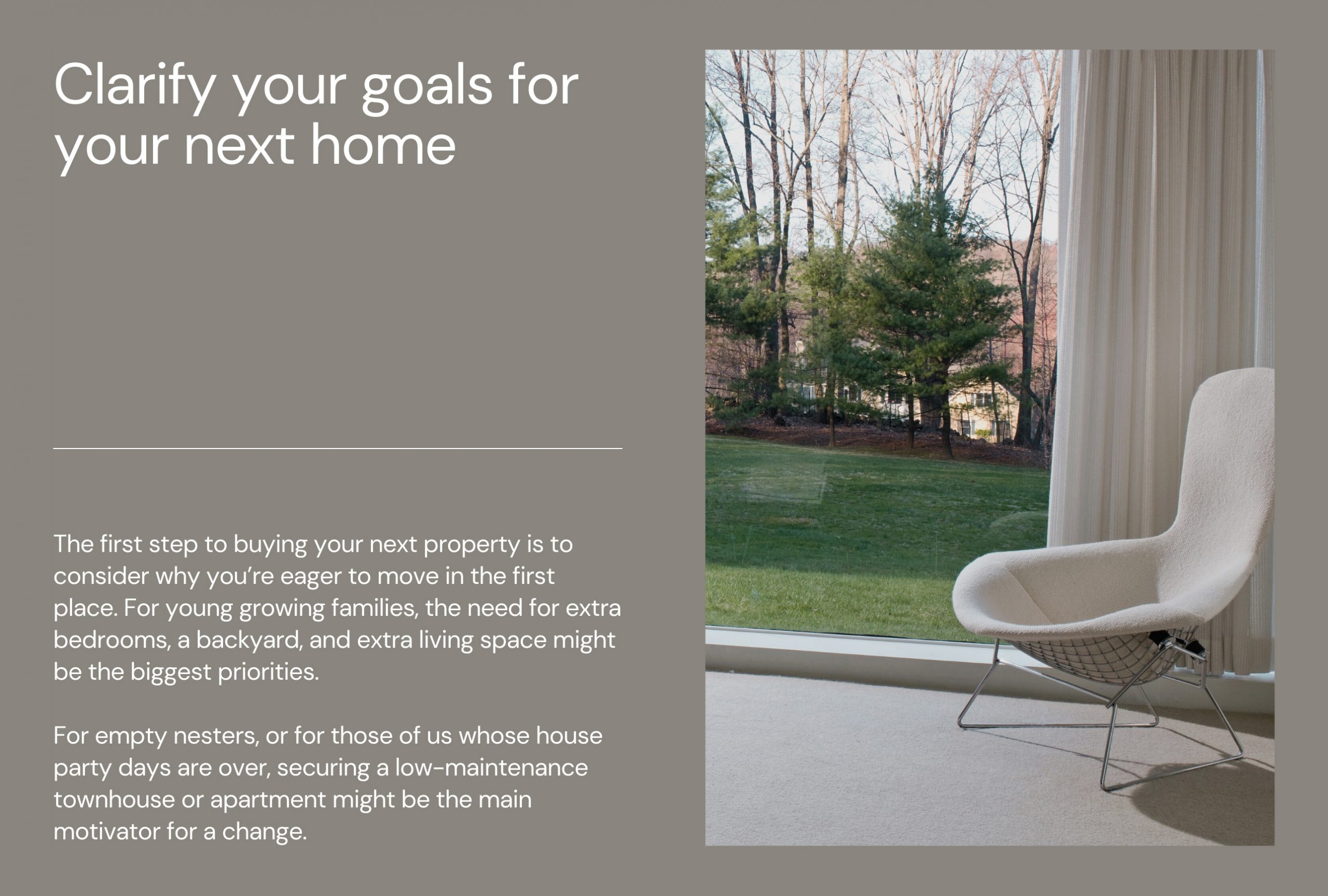 The costs of buying your next home
Along with access financing, it's also important to factor in the costs associated with purchasing a new property (and selling your existing home). These additional costs typically include:
But there are benefits to buying your next home, particularly if you're nearing retirement. Did you know downsizing your home can help boost your super balance? It's all part of a scheme introduced by the Federal Government. From 1 July 2018, Australians 65 years old or over can put up to $300,000 in proceeds from selling their home into their superannuation. Known as a 'downsizing contribution', this scheme can only be accessed once upon the sale or disposal of one home. To find out more about the scheme, click here.
---
Making your next property move is a big decision that needs to account for your unique personal circumstances. By taking the time to research your options and understand the most practical path to purchase, you'll put yourself in the best financial position.
The finance information contained in this post is general advice only, and doesn't take into account your personal circumstances or goals. You should always reach out, or seek professional advice, before making any financial decisions.
Share this