Well, it's certainly an interesting time in property market land. There's talk of interest rate rises (and what that means for property prices), an auction 'Super Saturday', a recently announced federal budget and a looming election all working to create a changing market landscape.
So, we thought we'd check in with our go-to property market guru, Buyer's Agent Kellie Landrey from Scoutable, and bring you some insights into where the market is at right now and what you can expect if you're looking to buy in the near future.
---
PF: Hey Kellie, thanks for chatting with us! So, we've heard real estate agents talking about the 'Easter Super Saturday' auction weekend. Can you give us a bit of an explainer on what that is and what to expect?
KELLIE: The 'Easter Super Saturday' auction weekend is traditionally the Saturday before the Easter long weekend. Basically for 2022, because the following two weeks will be long weekends (Easter and ANZAC Day), there'll be more auctions on the Saturday before the long weekends than normal. This is because a lot of [selling] campaigns have been run so that they all fall on this particular day. Then, in a couple of weeks time, there will be more properties that hit the market.
PF: In February this year, the Sydney market experienced a 'price drop' (it was only 0.1%). Do you think this is the start of the 'correction' that some economists are predicting, where property prices will drop 10 -15%?
KELLIE: Auction clearance rates have started to drop progressively in 2022, and buyers are now becoming more hesitant to buy 'whatever they can get their hands on'. What I'm noticing is that properties that are great quality are still performing quite well, whereas the properties that aren't quite perfect - they're the ones that are struggling to sell. So really, there's a kind of two- tier market happening at the moment. It's a very clear divide between the properties that are ticking boxes, and the properties that aren't quite there. The ones that are ticking all the boxes, they're still getting four or five buyers on them and the auctions or pre-auction negotiations are competitive. If the property is a bit overpriced, or it's not in the perfect location, the second bedroom is small or it doesn't have parking in an area that you really need parking - if any of those elements are happening, then there might only be one buyer on it and those are the properties that are passing in or trading at a discount.
In Sydney, because there are a lot of good quality properties, we're seeing things drop ever so slightly and I think moving forward, we could continue to see this low growth or a little bit of negative growth over the period of this year. But I don't think it's going to drop 10 to 15% just because of the quality of the stock. However, with areas where there is an oversupply or the potential for oversupply, that's when we might see the 5- 10-15% drop.
PF: What would you say is an 'oversupply' area in Sydney
KELLIE: So I'd say the apartment market in Waterloo, I think at the moment they've got about 40 '2 bedroom' apartments on the market, whereas in Darlinghurst, there might be five.
Erskineville also has a lot of apartments but you can divide it into two sections, just like you can for Alexandria. There are a lot of apartment complexes, but there's also pockets where there are small terraces surrounded by smaller buildings. Interestingly, [these apartments] kind of hold themselves okay. Their value is definitely below the Sydney average in terms of capital growth per annum over the last five years (in comparison to apartments of similar quality in areas with less supply) but they don't turn over as much as they do in Waterloo.
PF: In your opinion, are there any suburbs in Sydney that are currently flying under the radar in terms of opportunity?
KELLIE: No, not really. There are suburbs and pockets that still have upwards to go, for example, the areas between Alexandria and Maroubra. They've been jumping up in the last couple of years, but there's still good investment/homeowner opportunities in that pocket. I'm talking Rosebery, Eastlakes, Paigewood, Maroubra - all those areas have got a lot of great fundamentals for growth. Another pocket is along the metro line that's coming in. [Suburbs there] have still got good opportunities and the same can be said for Melbourne.*
I think it's always a good idea to also look at the neighbouring suburbs, because if you're getting priced out of your dream suburb, a neighbouring suburb could offer really good things for you. So, don't discount it in your search, analyse it against your wishlist and see if it makes sense for you.
PF: What would you say is a 'normal' level of annual price growth?
KELLIE: Generally speaking, normal is about 7% per annum but when you're looking at buying or investing in property, the number you should also be focusing on is the 10 year averages or longer-term growth. This is because in a 10 year period, you're going to go through a bunch of different [property market] cycles. Last year we saw 20 - 25% growth. This year, it will potentially be sitting at somewhere like 3 - 4%. And then next year might be sitting around 2% and so forth.
So there could be periods of time in the next few years where it might be closer to sub five, but it's about holding until you go through that next jump, which will inevitably happen at some point over that period of time. And the trick is to not put yourself in a financial situation where you're going to be forced to sell. If you are going to sell and buy, just acknowledge that you're doing it in the same market conditions and it's okay if you're not getting that initial jump that you wanted to because you're going to buy the property at a discount too.
The most important thing if you're a homeowner is to remain calm with all the chatter in the marketplace, and just focus on your goals for your investment or home ownership. If you've followed the fundamentals of investing in property and you've ticked all those boxes, then it's going to do okay.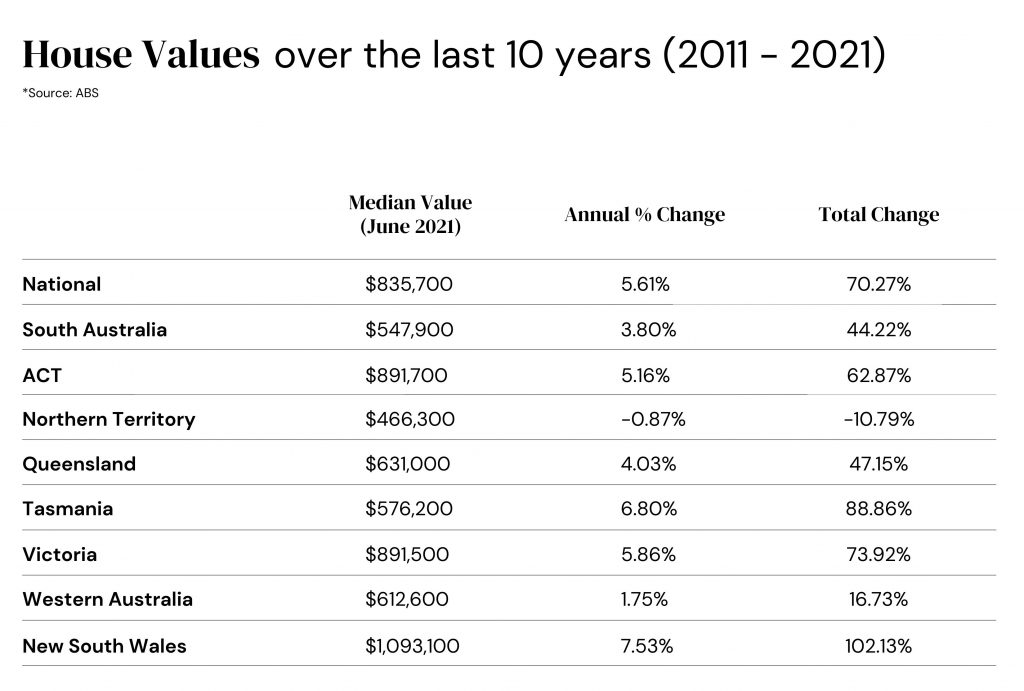 PF: What is the feeling on interest rate rises in the real estate community? Are people expecting a bit of a market softening as a result?
KELLIE: There's a lot of chatter in the real estate world that [rate rises] are going to have an impact but again, I think it depends on where the property is sitting in that tiered environment that I mentioned earlier. A lot of people (especially in Sydney) are using equity to trade in properties, so minor fluctuations in the interest rate movements aren't impacting them in a significant way. It's more impacting the first home buyers than it is the second or third homebuyers, or the people who are upgrading or downgrading.
PF: What would you say to the people who are waiting for this market softening before they buy?
KELLIE: My advice to those people is: if you've got your pre-approval and you're ready to buy, don't wait for the market to drop because you won't know you're at the bottom until it starts to rise again. I think it's more important that if a property ticks all your boxes, it's in your budget and you can buy it with less competition at this moment in time then why wouldn't you buy it? For the fear that it might drop a couple of percent? If it does drop a couple of percent, and then a few months down the track you can't find a property as good as that one, you're going to be really kicking yourself. Remember, you're not going to sell it again tomorrow, so even if there's a little fluctuation in the market, it's going to turn around again in time.
PF: Having said all of this, what are your main tips for people that are looking to buy in the next few months?
KELLIE: My main tips are: do your research and, as I always say, don't be afraid to connect with [real estate] agents and give them your brief of what you're looking for. Also, be prepared! Have your finance pre approved, and if you find a property you like, you can do all your due diligence quickly and go in confidently, either bidding at auction or offering a pre auction offer. You're probably going to be sitting ahead of the pack if you do all those things.
Though, what you don't have to do at the moment is overpay. Just go in with what you think is a fair and reasonable offer and you'll have a really good chance.

The information provided in this article is general advice only, and doesn't constitute personal investment or financial advice. You should always reach out, or seek personal advice, before making any financial decisions.
Share this