Talk about having our dream job, Lizzy is a small business owner and marketing specialist in the beautiful Margaret River region's tourism and wine industry in WA. From abseiling the Wilyabrup Cliffs to taste testing for Halliday's Winemaker of the Year - it's all in a day's work for Lizzy. While she normally has to pinch herself with "how lucky she is", when COVID hit and the industry ground to a halt almost overnight, "having all eggs in the tourism basket made 2020 a pretty stressful experience," she shares.
Crammed into a tiny two bedroom apartment during lockdown with her husband Chris, their two daughters, and rescue dog Lucy, it was hard to imagine Lizzy and her family would ever finally move into their dream home and put this stressful time behind them.
Both self-employed, Lizzy and Chris were a little tentative going into the process after losing money on a previous investment, and they embarked on this new property "feeling cautious and keen to stick to a budget."
"Our first mortgage was through a Big Four bank, simply because I was a loyal customer. We had to fax and re-fax the application because they lost the original paperwork, and it wasn't a great experience. I knew that would never happen with Pure Finance, being a small and nimble team.
We'd been on Brendan's books for several years before we actually bought; it was at least a five year process of saving, getting our businesses to a stage where we had steady incomes and the ability to service a mortgage."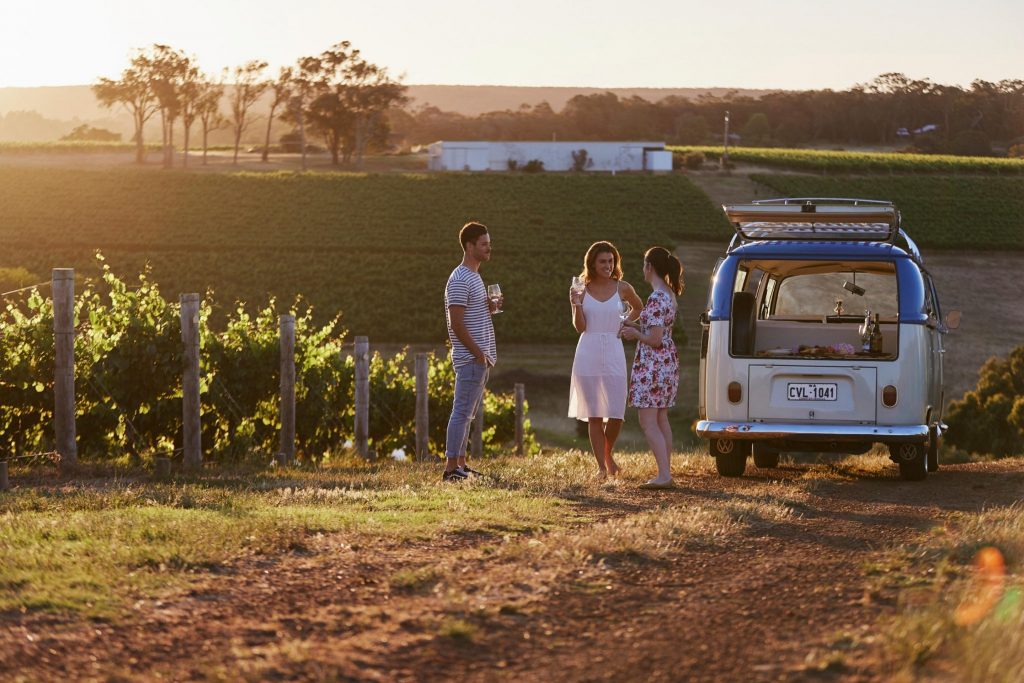 Originally looking to buy an older home in the Dunsborough area, Lizzy and Chris soon found that "everything around was built around 30 years ago, faced south with tiny, cramped rooms and low ceilings," which wasn't what they had in mind for their small family. Designed without any storage and "for summer only, not nicely insulated for winter or all year round living" - nothing really 'sang' to them. That was until a friend and local real estate agent introduced them to a new development in an established part of Dunsborough.
Surrounded by empty blocks and backing onto a nature reserve a mere 300 metres from the beach, they decided to build their own home - exactly how they wanted it.
"Dunsborough is a beautiful area. We've got a small block, it's only five hundred square metres and one of eight, but it's close to the beach and backs onto a reserve with beautiful orchids in a nice part of town. We're very, very lucky. In the springtime it's also peak whale migration time, and when I pick my kids up from school we'll often go to this spot and sit on the rocks and look for whales."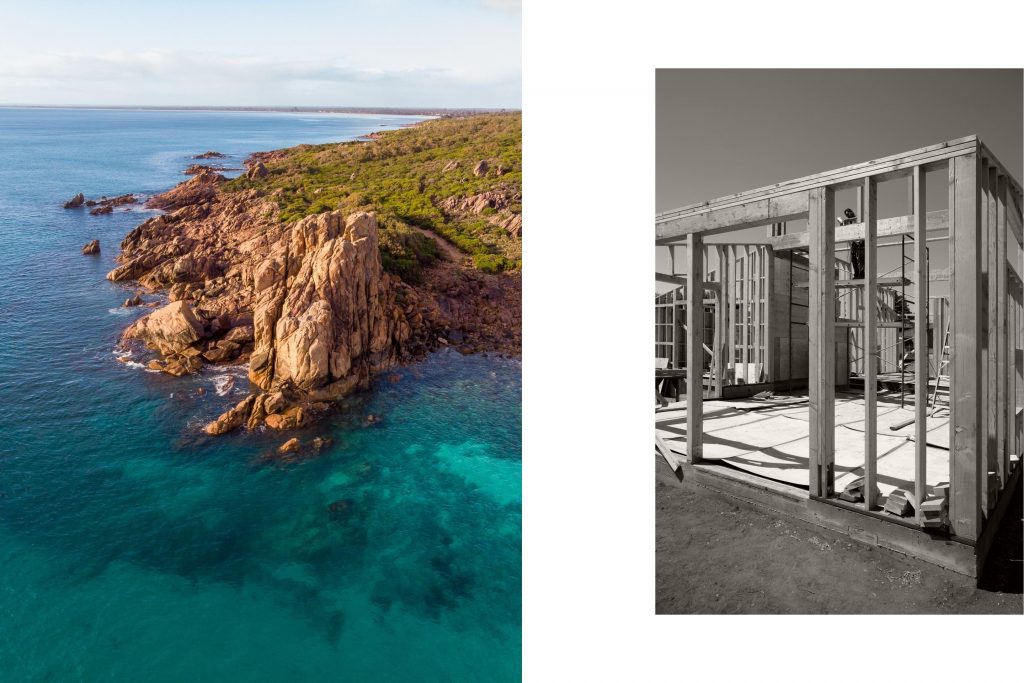 But it wasn't always smooth sailing, running their own businesses and trying to navigate the many challenges of COVID and lockdowns while juggling home life and building a home of their own.
"While I'm really mindful that we got away lightly in this particular corner of Australia with COVID, there's a lot of people that have had a shocking two years, particularly in the tourism industry, and I really feel for them. For me, all contracts stopped abruptly over the space of a week and I felt an enormous loss of identity, suddenly losing the business I'd worked so hard to create.
"The pandemic has made me diversify the industries I work in and find new clients, and now I'm grateful to have a solid amount of work to the point I can turn work down and my business has actually grown. But when we were halfway through the construction of our home, in lockdown, living in a tiny 2-bed apartment with little kids who needed a lot of attention, that was really shit!"
Feeling more grateful than ever that they decided to "be patient", Lizzy ended up having "plenty of fun" building a home, she shares as she looks out on a wall full of jasmine from her kitchen window:
"We were incredibly fortunate that construction was able to continue during COVID and that we lived close by, and were able to come and have a look most days. We spent about six months designing and getting it exactly right. We made all the bedrooms spacious, made sure it was facing north with lots of sunshine. And then it was a six month or seven month build process.
"Building was stress-free, but the biggest challenge was decision fatigue and sticking to a budget. We were very careful about the budget, we didn't go overboard, and the money that we had saved for doing the landscaping and the deck and the patio, and all those extra expenses, we figured that cash could always pay our mortgage for a year if we needed it to. I'd happily do it again, it was plenty of fun!"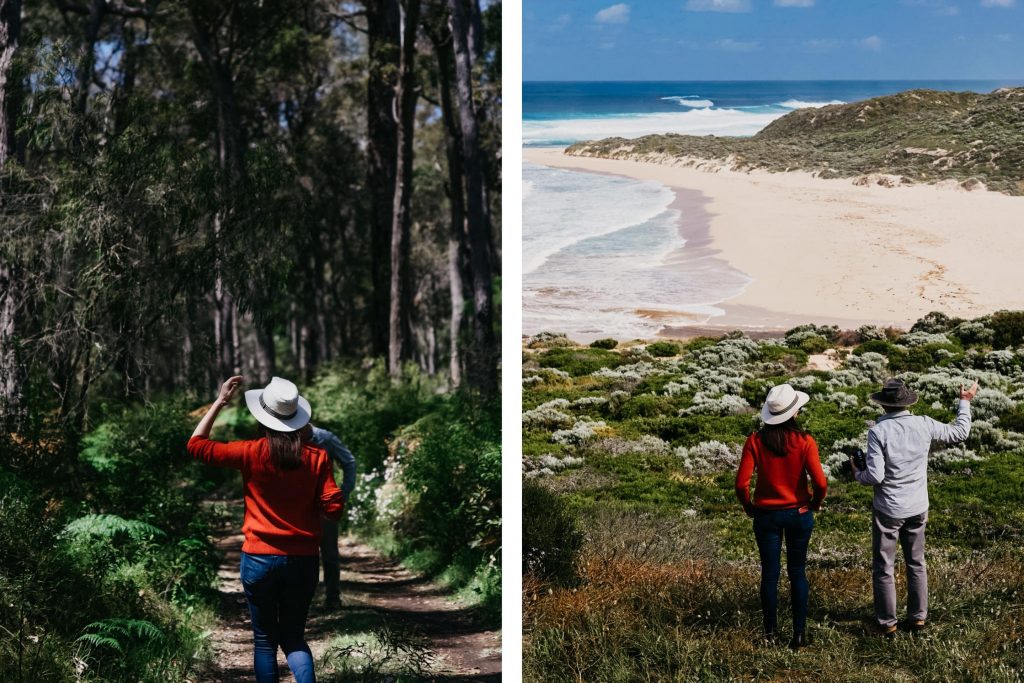 Closely aligned to our "impact and ethos," and excited by the fact that our Annual Reviews save them "some serious biccies, so we can relax and do our thing," Lizzy has one piece of advice for aspiring home builders: "be patient and do what you can afford so you can still have quality of life." We couldn't agree more - there's a lot to weigh up when you're building a home and helping you wade through the sea of information and giving you the best chance to realise the vision for your dream home is exactly what we're here for.
READ: Building your own home? Here's what you need to consider ↗︎
Lizzy's top picks for those visiting her new neighbourhood
Lady Lola Bar and Margaret River Bakery for the best food in town; for nature lovers and seekers, you can't go past Meelup Beach for swims; Point Piquet for spring whale watching; and Boranup Forest for caves and hikes.
She also recommends you check out:
"It's great to see the majority of tourism operators in the region making an excellent recovery. There's certainly some who haven't yet – especially those who catered to the interstate and international market - and I hope that everyone considers giving the gift of travel this festive season."
You can see more of Lizzy's work by visiting her website: lizzypepper.com
---
A big thank you to Lizzy and Chris for sharing their story of building a dream home on Wadandi Country in Dunsborough, WA. If you want to find out more about how we make finance a force for good or work with us to realise your dreams of building a home, we'd love to hear from you. Get in touch with us here → info@nullpurefinance.com.au