As 2021 draws slowly to a close, we wanted to take a moment with you (if we may?) to reflect a little on the year that was. For many of us, it was another incredibly challenging year, in ways both big and small. We're sure we don't need to remind you. You were there, you felt it too.
In the face of immense challenges like the ones thrown our way this year, both in Australia and across the globe, it can be all too easy to feel like our individual choices and actions don't matter. That we, in our small and quiet corners of the world, can't really do all that much to catalyse and bolster the change we so desperately want, and often need, to see in the world.
But the truth is, our individual actions do matter. And often, they can help create meaningful and lasting positive impacts for our fellow humans and the planet we all share. So, as we all prepare to say goodbye to a year that was harder than most, we wanted to take this moment to remind you of just some of the amazing impact you've helped to create by being part of this community. By believing, as we do, in the power of making finance a force for good - for ourselves, for each other, and for our planet.
Finance | Azra + Chris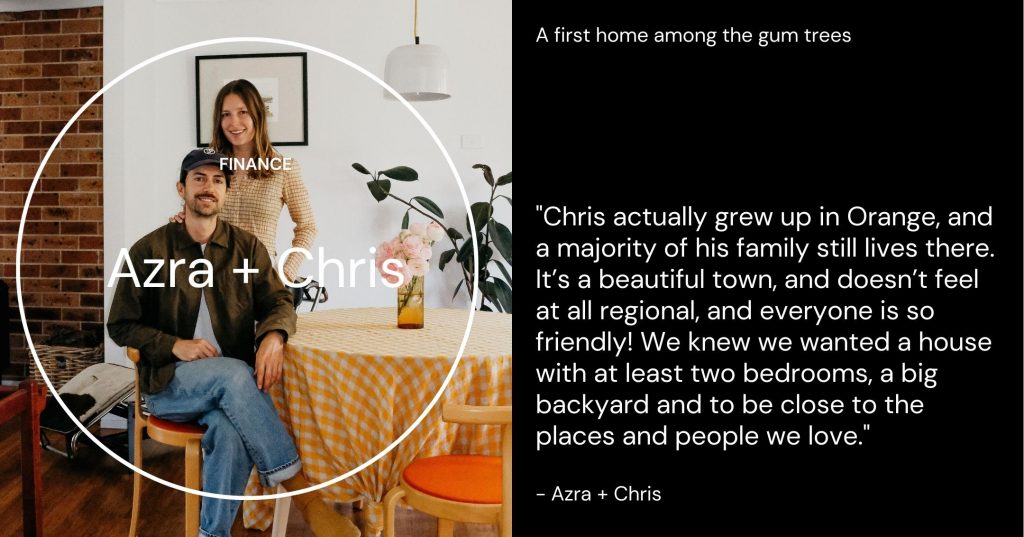 Recognise that face? This year, our very own Company Coordinator, Azra, along with her new husband Chris, bought their first-ever home on Wiradjuri Land in Orange in regional New South Wales.
A charming 3 bedroom home with a big backyard for their dream veggie patch, Azra and Chris took advantage of the first home buyer schemes available and, with help from their parents, made the increasingly popular regional tree change to purchase their first ever home.
Read Azra + Chris' story here ↗︎
For Good | Firesticks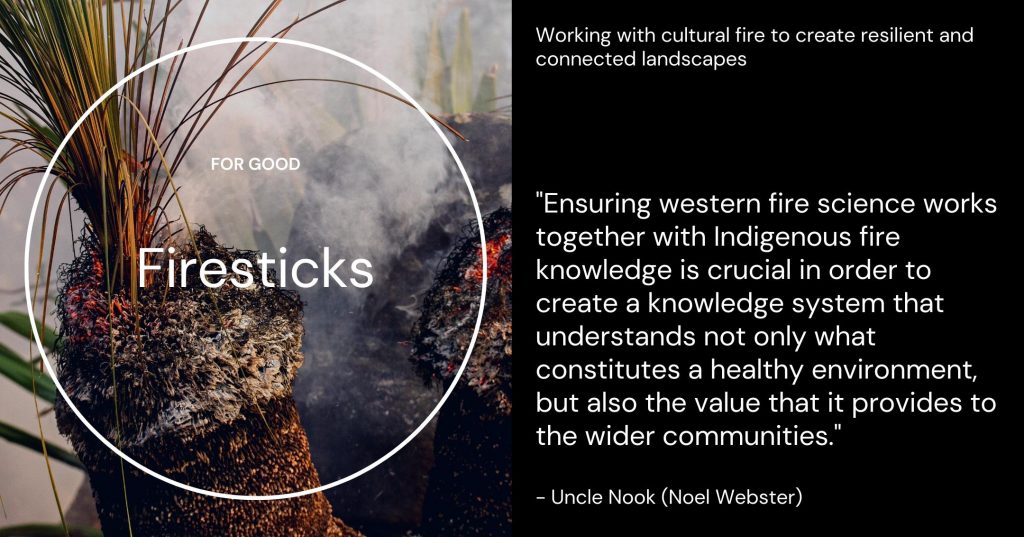 Firesticks Alliance Indigenous Corporation is an Indigenous-led organisation that aims to re-invigorate the use of cultural burning by facilitating cultural learning pathways to fire and land management. 'Cultural burning' is described as burning practices developed by Aboriginal people to enhance the health of the land and its people. The program aims to work with fire to enhance ecosystem health by improving habitat conditions and connectivity within culturally connected landscapes. Firesticks also support cultural learning pathways that enable and empower Aboriginal and non-Aboriginal communities to work collectively towards resilient landscapes. Discover more about Firesticks and the work they do here ↗︎
Like many of us, Firesticks Alliance faced extra hurdles thanks to Covid-19. The postponement of the National Indigenous Fire Workshop, where Indigenous community leaders and members use this workshop as a chance to get like-minded communities together, pass on skills from Elders, and share wisdom from success stories and strategies to overcome roadblocks, led to the first ever digital conference on Cultural Burning. Those in attendance included multiple Aboriginal communities around the country, as well as local Indigenous community members in the USA and Canada.
The space was created to be able to share their achievements and challenges leading Cultural Fire projects and initiatives and discuss support they need to take Cultural Fire to the next level. These included taking the time to educate and build trust with partners (like local Rural Fire Service teams), creating webinar series and leading political advocacy resulting in a Cultural Fire Strategy becoming legislation in Victoria.
Despite their many wins, there were plenty of challenges to overcome, particularly in the rigidity of western thought. These communities used different and creative ways to overcome many bureaucratic challenges in practicing Cultural Burning. By using the tools Firesticks Alliance provide through mentorship and training, many gained confidence to put their foot down and demand more of a leadership role. One brilliant example of this, are members of the Gambir Yidinji Cultural Heritage Protection Body in Far North Queensland, who received high levels of qualifications as advanced fire fighters, SES members and combat first aiders, to enable them to enter more mainstream organisations and ensure their ideas and concepts become part of these practices.
With the pandemic continuing to throw up variants of concern, ongoing donations to organisations like Firesticks are imperative. These donations help Firesticks to adapt in providing localised support and workshops in the digital space, particularly when many borders remain shut. It also ensures that they can continue to grow their resources into increasing the scale size of Cultural Burning sites, as well as ensure and increase women's representation in fire management, in both mainstream organisations and in Cultural Burning practices.
As global warming continues to escalate, with lack-lustre leadership, and ever-downgrading climate change commitments (hello COP26), it's more important than ever to magnify the voices of Indigenous leaders using historic land practices. The differences between Indigenous land practices and western land practices are stark, as evidenced in their video series 'After the Wildfires'. The commencement of the Certificate 3 to Diploma in Conservation and Land Management in the Hunter region over the coming year will also provide valuable learning for Firesticks Cultural Fire mentoring and training program and certification framework – a key stepping stone towards building community capacity to practice Cultural Fire. Donations like ours, made possible through your loans, help Firesticks to keep these important initiatives viable.
Finance | Valentinas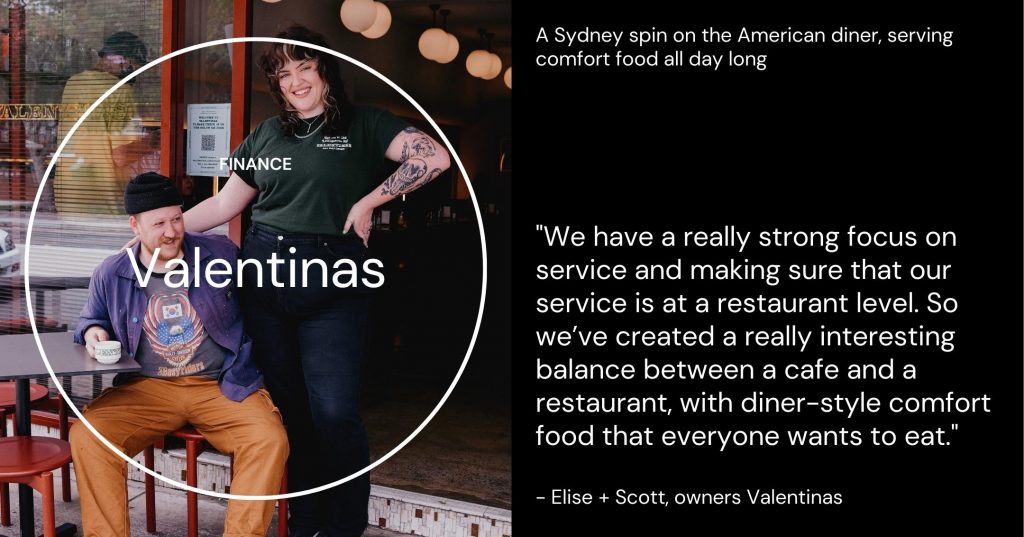 Opening its doors in 2021, Valentinas is Sydney's latest and greatest all-day diner, serving up the comfort food of your dreams, with a fit out to match. We sat down with owners, Elise and Scott, to learn more about their brand new venture, as well as their journey to building some of Sydney's most beloved hospitality venues.
Get to know your new favourite diner, Valentinas, here ↗︎
For Good | Lock the Gate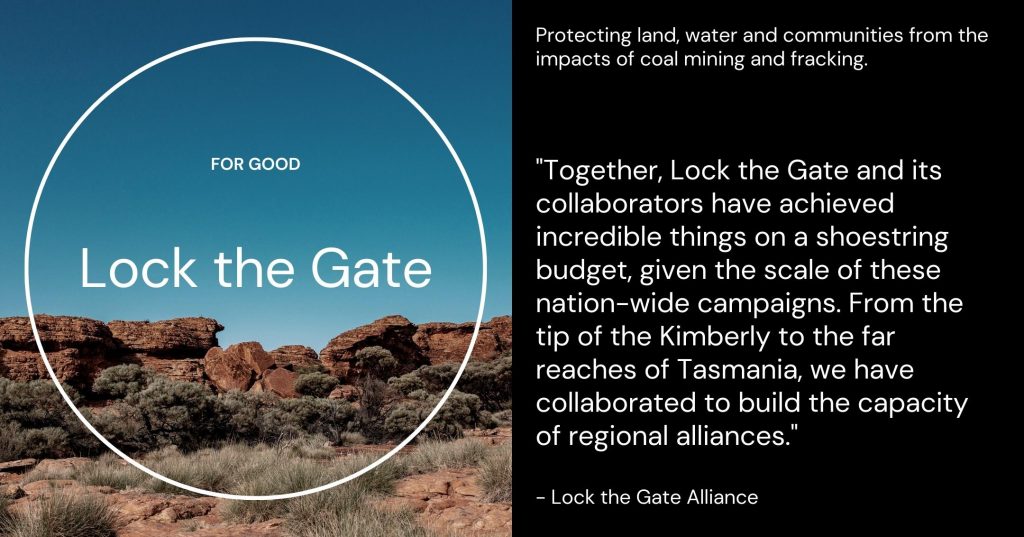 There's no two ways about it: the Morrison government has been absolutely disastrous for climate action and justice in this country. National mapping shows an eye-watering 37.3% of Australia is covered by coal and gas licences and applications (an area 13 times the size of Great Britain) and mining and gas companies frequently break environmental protection laws, with little to no repercussions or accountability.
In the second quarter of this year, we gave to Lock the Gate Alliance, a grassroots organisation of over 460 local groups and 120,000 supporters from all over Australia who work to protect land, water and communities, primarily from the impact of coal mining, coal seam gas, and fracking. They represent the interests of groups from First Nations people fighting for water, culture and country, to farmers facing the impacts of climate change, and tourism operators who rely on the preservation of our waterways for their livelihood. Learn more about Lock The Gate here ↗︎
Being a coalition of a huge number of community groups, Lock the Gate fights on several fronts at any one time and, as you can imagine, being a grassroots advocacy alliance against fossil fuel giants, lobbyists and their 'friends in high places' is always going to be an uphill battle.
When we donated back in June, the Federal Court had just found that Federal Environment Minister (Sussan Ley) owes all Australian children a duty of care when considering her decision to extend Whitehaven's Vickery Coal mine. Although the injunction being sought was denied, the Federal Court's 'duty of care' decision garnered a lot of public and media attention and we jumped on the advocacy train, drawing attention to Lock the Gate's petition to the minister to deny the extension. Devastatingly, Minister Ley approved the extension only weeks after the Federal Court's decision.
Lock the Gate were also instrumental in advocating against the release of lands in the historic Rylstone district, which was earmarked to be used for new coal exploration and eventually mining. The lands are rich in Wiradjuri heritage, with 45 sites identified in an area that is covered predominantly in native vegetation, including 10% being the homes of known or potentially threatened ecological communities, such as koalas, regent honeyeaters and the spotted-tail quoll.
Engaging in grassroots campaigning and supporting the Rylstone Region Coal Free Community advocacy group, Lock the Gate advocated against the release of the land in the Rylstone area, and encouraged submissions to the department of Planning, Industry and Environment and the Advisory Board for Strategic Release. Over 2000 public submissions were received, with over 99% overwhelmingly rejecting the proposal. NSW Deputy Premier Paul Toole said recently in NSW parliament that he will recommend against the controversial release of land for coal exploration near Rylstone and the Wollemi National Park.
For a federal government that says it's committed to doing everything in its power to reduce emissions, they sure are planning to open up a lot of new coal mines. Currently, Santos is seeking to develop a CSG gasfield in the Pilliga forest near Narrabri. An 850-well gasfield capable of producing almost 130MT of greenhouse gas emissions alone, which is the equivalent of approx. 28 million more cars on the road. Lock the Gate are currently advocating for farmers who are terrified that worsening conditions as a result of human-made climate change will exacerbate droughts, heat waves and extreme weather, along with having a severely negative effect on water quality.
While Santos is still a long way from being ready and to build they will need money to do so, and with a gaping loophole in NAB's recently finalised oil and gas policy, Lock the Gate is calling on NAB to explicitly rule out financing oil and gas basins and are offering a number of channels for you to get your activist on over the Christmas break to let them know what you think their policy should look like. We shudder to think about the state of things, if it weren't for the tireless advocacy and campaigning of grassroots organisations like Lock the Gate, whose unwavering vision is for healthy, empowered communities that have fair, democratic processes available to them to protect their land and water, and deliver sustainable solutions to food and energy needs. We couldn't agree more.
Finance | Lizzy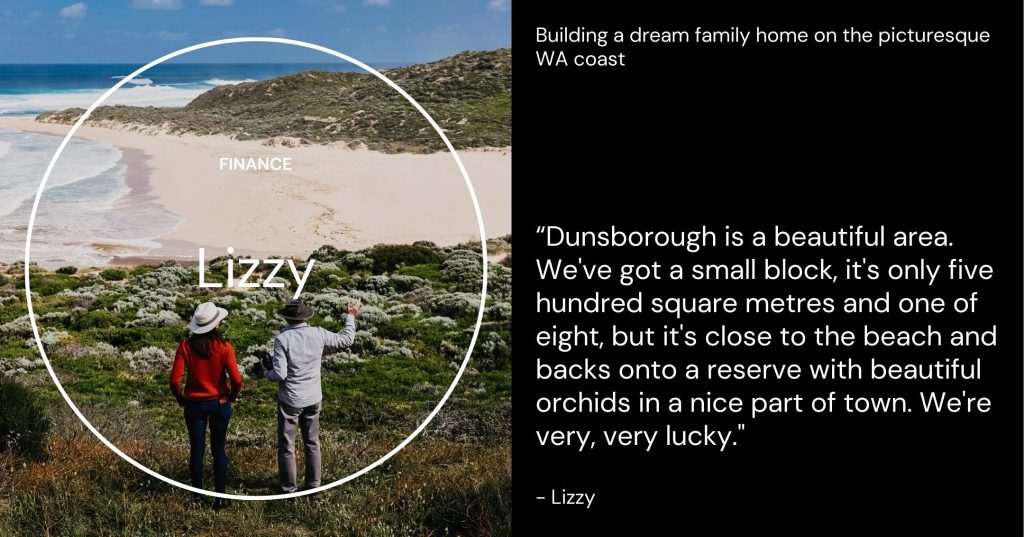 Talk about having our dream job, Lizzy is a small business owner and marketing specialist in the beautiful Margaret River region's tourism and wine industry in WA.
But when COVID hit and her industry ground to a halt almost overnight, it was hard to imagine if she and her family would ever manage to move into the home they were building themselves, just 300 metres from the beach on Wadandi Country in Dunsborough, WA.
For Good | Environs Kimberley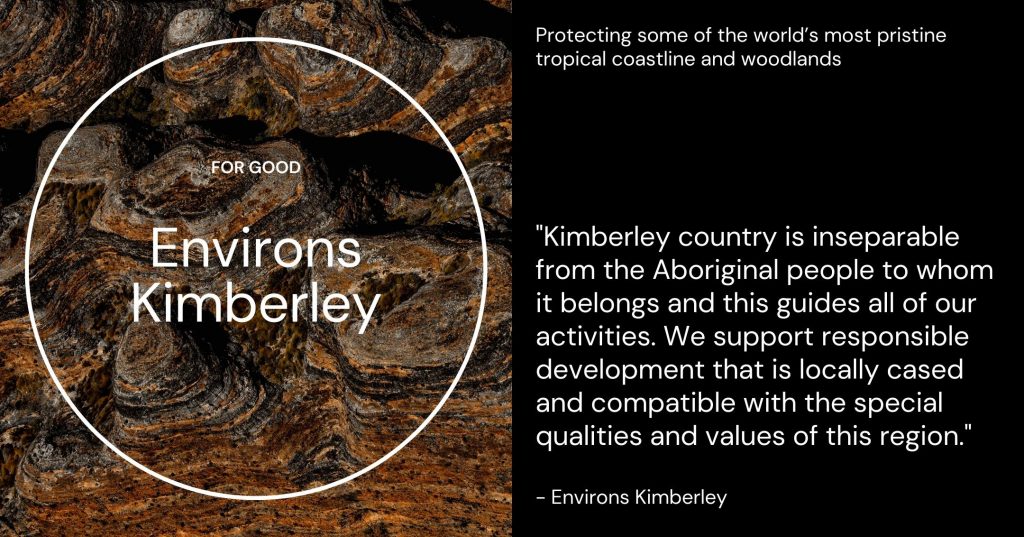 Happy 25th Birthday to Environs Kimberley!
As the peak environmental NGO for the Kimberley region in far north-west Australia, Environs Kimberley is dedicated to looking after the health of the land and waters, and cultural heritage of the region.
Guided by principles of environmental and social sustainability, through advocacy and on-ground cultural and natural resource management projects, EK work at the local level with communities, landholders and land managers, especially Aboriginal traditional owners and their ranger groups, to sustainably manage the land, tackling problems such as wildfire, weeds and feral animals, protecting local plants and animals, and their habitats from a range of threats including in particular fossil fuel exploration and production.
The Kimberley region is home to arguably the world's most pristine tropical coastline and tropical woodlands that are part of the largest, most unspoilt savannah in the world. Its wetlands, rivers and rainforests are internationally significant and the north Kimberley is the only place in Australia to have experienced no mammal extinctions. Yet this area's landscapes and ecosystems are under threat like never before.
Established in 1996 to support Traditional Owners in protecting the Kimberley from the damming of the Fitzroy River and large-scale land clearing to grow cotton. EK have been fighting the good fight ever since. 20 years later, in 2017 the McGowan Government in WA went to the election with a 'no dams' policy, and at the end of 2020 they signed an agreement with the Traditional Owners, the Bunuba people, to declare National Parks on two of the proposed dam sites at Diamond Gorge and the Margaret River Gorge. This area spans 173,000 hectares and is jointly managed by the Bunuba Dawangarri Aboriginal Corporation and the state Department of Biodiversity, Conservations and Attractions. We have high hopes for this partnership and hope to see further, meaningful collaboration between Traditional Owners and state departments to protect and preserve Country, and the rich cultural history it contains.
When the Pure Community made its contribution to Environs Kimberley back in March they were (once again) campaigning hard to fend off proposed developments on the Fitzroy River. Despite the protections promised for the upper reaches of the Fitzroy and Margaret Rivers, there is still significant interest in exploiting the lower reaches. Mining magnate Gina Rinehart and cotton and beef farmers the Harris Family have been lobbying in favour of proposals for Murray-Darling style pumps and channels, which would require the clearing of over 30,000 hectares of land, as well as the expropriation of 375 billion litres of water a year. In case you missed it, this hasn't been fantastic for the health of the Murray-Darling system.
In addition to these locally born threats, international fossil fuel companies such as Bennett Resources out of Texas (a subsidiary of Black Mountain) have referred plans to frack in the Fitzroy River catchment. In staunch opposition to the proposal EK facilitated over 2,500 submissions to the Environmental Protection Agency, who eventually terminated the 2020 proposal for six fracking wells. Earlier this year however, Bennet Resources lodged a fresh application…for twenty new wells instead. This plan is currently being assessed, but once again faces strong resistance led by EK, who have since facilitated over 3,000 submissions in opposition. These submissions were spurred on by the WA Government's lifting of a moratorium on fracking the Kimberley in 2018, and while they have since announced a new domestic gas policy preventing the export of WA gas overseas, the pressure from industry to repeal this policy continues to mount.
Beyond advocacy, EK performs a significant amount of on-ground work which contributes to the overall well being of Country, it's creatures, and the protection of cultural heritage. This includes working with rangers and communities to monitor, manage, and maintain land, animal habitats, and cultural sites, offering training and education programs through TAFE and schools, as well as promoting the transmission of cultural knowledge and practices. Honestly, there is too much to list so we encourage you to have a look at their annual report to understand the full scope of what they do and why it's important!
After 25 years on the frontlines, Environs Kimberley are needed as much now as they've ever been. The sustained nature of their advocacy has proven to be crucial in keeping destructive environmental practices at bay, and their ongoing fieldwork, research and education all play a massive role in preserving the diverse, unique, and pristine region that is the Kimberleys, and the rich cultural heritage it contains (including Australia's oldest known rock art).In true EK spirit, we encourage you to make your voice heard and sign their petitions to Ban Fracking in the Kimberley and to Protect the Fitzroy. If you're in a position to do so, you can donate to EK directly, and if you're in WA you can sign up to volunteer your time, or donate by recycling.
Finance | Beatrix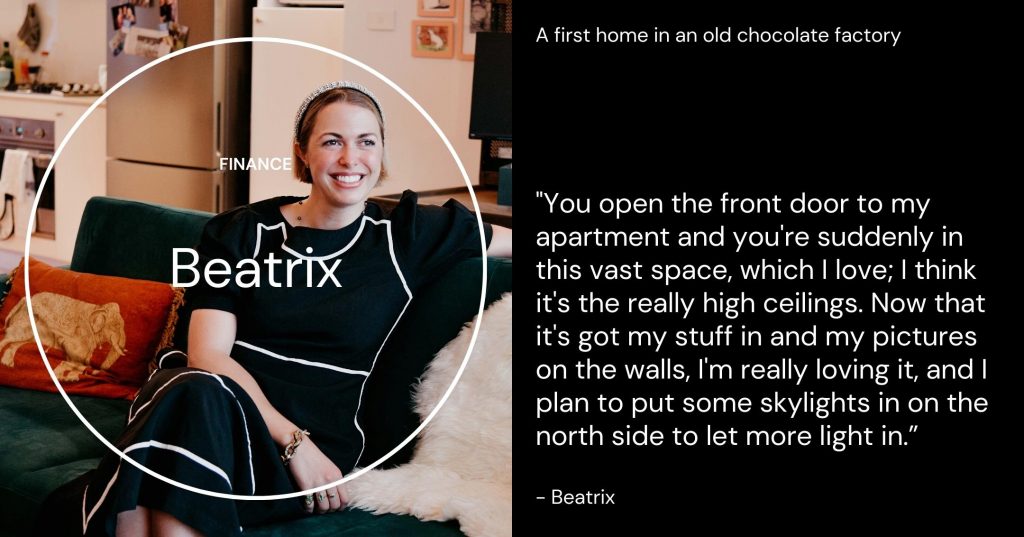 After spending the last eight years living in "vibrant, busy, cultural" London, Beatrix was ready to return to Sydney and put down roots. Part of the team at strategic design agency Folk, she was passionate about aligning her loan with her ethics, and is now the proud owner of a unique converted warehouse apartment on Gadigal land in Stanmore, NSW through Bank Australia. Now, all she needs is the perfect housemate...
For Good | Victorian Aboriginal Legal Service (VALS)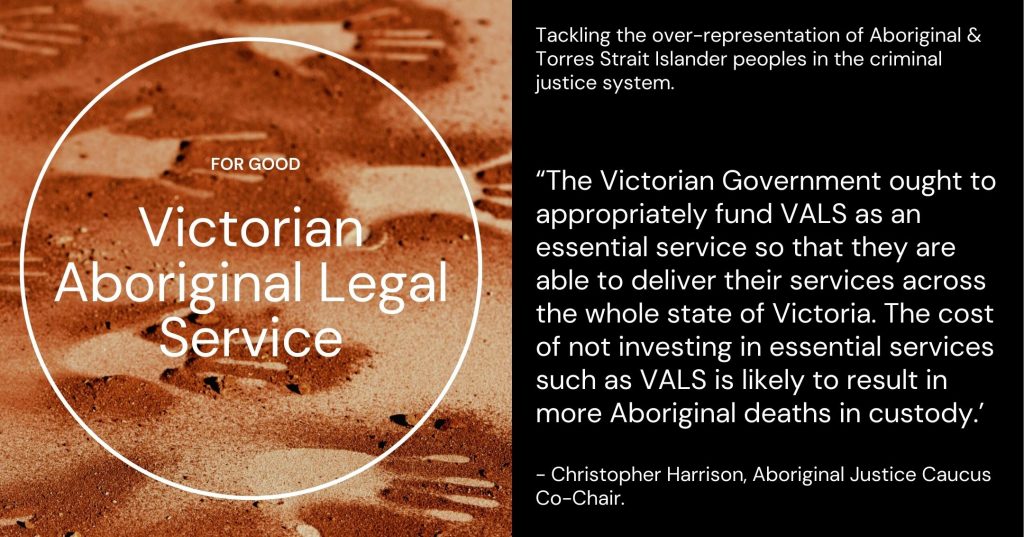 In 2021, one in four prisoners in this country is Indigenous, that's 10 times the make up of Australia's population, and Indigenous women have the highest, fastest growing imprisonment rate. We can, and need to, do more. This year as part of our commitment to Pay the Rent, we donated to the Victorian Aboriginal Legal Service (VALS), in recognition of the extraordinary and tireless work they do in the community.
In May this year, VALS announced that due to the Victorian government cutting funding in the 2021/2022 budget, they were forced to make the difficult decision to freeze intakes to deal with their overwhelming demand for legal services. Established in 1973, VALS acts as a bridge between the legal system and Aboriginal and Torres Strait Islander communities, providing education, research and advocacy around law reform and policy development, as well as culturally safe legal and support services to those in the community who have come into contact with Victoria's justice system. Discover more about VALS and the work they do here. ↗︎
When the freeze was announced in May, lawyers working for VALS were managing an average of 130 case files each - that's almost three times more than the sector recommendation of 50. VALS highlighted that this was a major concern, as Aboriginal people, living through the continued dispossession and oppression, deserve high quality, culturally appropriate legal representation. This would be hard to give if workers and their resources were stretched so thinly that they could not maintain the standard of representation they deserve, as well as becoming an OH&S risk for staff and their wellbeing.
During this period from between May to September 2021, the direct impact meant no new matters were able to be taken on, and VALS had to delay their planned expansion of services to Gippsland. If VALS had received their proposed funding, they would have been able to open offices in 10 extra locations around Victoria, staffed by lawyers specialising in criminal, civil, family/child protection, and client service officers. Instead, VALS received only one-tenth of its requested funding, at a time when they arguably needed it the most.
Despite raising only $100,000 in the most recent financial year, an incredibly stressful period of time at that, the impact VALS have had is invaluable. By drawing on these donations, VALS helped to have over half a million dollars worth of fines waived for their clients on hardship grounds in this year alone, alongside the regular work they do in offering support across a range of legal issues such as tenancy, discrimination and human rights and coronial inquest and inequries with the coroners court (including a specialist practice that deals with deaths in custody and police contact coronial matters) to list just a few. Previous funding shortfalls led to the temporary suspension of their specialised youth service Balit Ngulu, and with $2.1m in fines being issued to children for minor Covid rule breaches (disproportionately in Aborginal communities) since the middle of last year, it's clear that funding for these services continues to be essential, particularly during times of exacerbated disadvantage.
Using their experience and knowledge, they've advocated tirelessly for law reforms desperately needed within our society and the spaces in which they operate. They've been a leading voice in the Stop Black Deaths in Custody movement (currently at 500 since the 1991 Royal Commission), as well as articulating why the age of criminal responsibility needs to be raised from a horrifying 10 years to 14 years (which once again, disproportionately affects the Indigenous community, and can be seen as the continuation of the stolen generations), to name only two examples.
We're grateful for organisations such as VALS, whose impact is far reaching, and frankly imperative in ensuring access to social justice and the upholding of human rights for those both directly and peripherally involved with Australia's legal system. If you can, please donate to them directly, whether through their community legal education program or Wirraway, their special legal and litigation practice. You can also learn about the urgent need for reform to bail laws here, volunteer your time here, and write to your local federal member here.
---
We were so honoured to not only be part of so many important milestones for our community members this year but to also pay it forward to some incredible social and environmental organisations who work tirelessly to make the world a better place - for all of us.

If you want to find out more about how you can make finance a force for good in 2022 and beyond, or work with us to realise your financial goals, we'd love to hear from you → info@nullpurefinance.com.au
Share this